W
eight gain can seem like an inevitable part of aging, but at some point, you'll realize it doesn't have to be. Unfortunately, that's actually where the bigger problems can start. There are hundreds of different sites offering conflicting information concerning exercise and
a weight loss meal plan.
However, it doesn't need to be difficult. You can join FF30Xtoday and join thousands of other fathers looking to lose weight and build muscle. Our advice and resources are designed to help busy fathers succeed in all endeavors, especially within fitness.
The first step in your journey must revolve around changing your eating habits.
How Diet Beats Exercise Every Time
When you eat, the food moves through your intestines at a slow pace. During this process, the muscles of your stomach will contract hundreds of times. This will force the nutrients out of the food and into your bloodstream.
If you eat food high in sugar, then this will mean a large influx of sugar into your body.  If these calories are not burned during the day, then they will be converted to fat.
The digestion process of sugar also causes inflammation throughout the body and can also lead to IBD, cardiovascular disease, diabetes, and many other unfavorable conditions.
To illustrate this point, it is worth looking at the number of calories in commonly consumed foods:
One slice of pepperoni pizza – 298 calories
1 ounce plain crisps – 155 calories
McDonald's large french fries – 510 calories
Big Mac – 540 calories
Burger King Triple Whopper – 1471 calories
Latte with syrup – 380 calories
Pre-packed chicken sandwich – 410 calories
12 ounces cola – 136 calories
Jelly donut – 289 calories
Of course, there are healthy options:
3 ounces tuna – 100 calories
1 cup plain oatmeal – 147 calories
Medium Apple- 72 calories
Medium banana – 105 calories
1 cup carrots – 52 calories
The average man should consume 2,500 calories per day. If you're looking to lose weight, then you need to be consuming less than this amount.
Exercise & Calorie Burn
A common perception is that exercise can combat the calories you eat. However, unless you adopt a weight loss meal plan, you will continue to gain weight. Exercise can do a lot of good, but it can't combat the high calories in the foods above.
The exact amount of calories you'll burn doing the following exercises will vary according to the intensity of the exercise and your current fat/weight ratio:
Running for 30 minutes at 6mph (average marathon pace) – 300 calories
Vigorous rowing for 30 minutes – 377 calories
Jumping rope for 30 minutes, 100 skips per minute – 360 calories
Swimming for 30 minutes freestyle – 290 calories
Cycling for 30 minutes at 10mph or more – 295 calories
Walking at 4.5mph for 30 minutes – 230 calories
It's great to burn calories, but as you can see from the above, 30 minutes of exercise will not burn the calories you've consumed with a takeaway burger, slice of pizza, or even a pre-packed sandwich.
Unless you create a weight loss meal plan, no amount of exercise is going to help you lose weight.
The Importance of a Personal Weight Loss Meal Plan
There are three great information sources that can help you with developing a personal weight loss meal plan:
The calorie calculator from the Fit Father Project, which will tell you how many calories are in the food you're eating.
The exercise calculator, which tells you how many calories you've burned in a workout.
Try our free 1-day meal plan
FREE

1-Day Weight Loss Meal Plan For Men 40+
Lose weight. Eat like a man. Enjoy your life. Over 55,000 men are using this.
Get yourself back into great shape - at any age the Fit Father way.
Developing a personal weight loss meal plan is important as it will ensure you remain on top of your calorie intake. If you combine this with a look at the maintenance calculator, you'll be able to work out how many calories you should be eating to lose weight. This is approximately 300 calories less than your maintenance amount.
You can also use the above calculators to factor in calories burned during exercise, ensuring you aren't tempted to overeat because you're exercising.
A personal weight loss meal plan does more than help you to lose the excess pounds. It will help you to live a healthier lifestyle, which has been shown to improve life expectancy and reduce the risk of age-related illnesses.
Foods To Include In Your Weight Loss Meal Plan
A personal weight loss meal plan does not need to be difficult. In fact, one of the best approaches is to adopt the Perfect Plate Method. Put simply this means your plate is split every time you eat into:
¼ Protein
¼ Carbohydrates
½ Vegetables
You already know what vegetables are! Here are some good sources of protein:
Seafood
Poultry
Eggs
Beans
Lean Beef
Cheese
Greek yogurt
Good Sources of Carbohydrates include:
Oatmeal
Sweet Potatoes
Brown Rice
Whole Wheat Pasta
Barley
Legumes
Whole Wheat Bread
With a little planning, you can pre-prepare your meals and help to reduce the temptation of instant and processed foods, which are usually high in calories.
Don't forget that just because something says its low fat doesn't mean it's good for you. Many foods low in fat have additional sugar and artificial flavorings to maintain the flavor.
The best food is anything you prepare yourself as you will know exactly what goes into it.
Tips to Help You Start & Stick to a Weight Loss Meal Plan
Adopt a weight loss meal plan today and start to see the weight come off. To achieve this goal, you'll probably need a little motivation and assistance; here are some tips to get you started:
Join FF30X 
You can easily increase your chances of success by joining a structured fitness program. Studies have consistently shown that structured programs dramatically help with weight loss.
Our flagship program, FF30X, has been effective for thousands of men wanting to lose weight. We also have decades of experience, including Dr. Balduzzi.  You can connect with experts and other members for advice, motivation, and support. You'll also get access to hundreds of recipe ideas and exercise routines that can help you achieve success.
THE 30-Day Health Program for Men 40+
Fit Father 30X is the world's first sustainable weight loss plan for fathers.
Get yourself back into great shape - at any age the Fit Father way.
Tell Your Family & Friends
It's much easier to start and stick to a weight loss meal plan if your family and friends know what you're doing. They can support your food decisions and help to prevent you from straying from your chosen path. It does get easier!
Clear Out The Junk
Junk or processed food needs to be removed from your house. Don't be tempted to have one last binge or leave it just in case. Having food you shouldn't be eating at home is simply a way of making it harder to lose weight.
Pre-prepare Your Meals
The biggest issues you'll face after a hard day at work is lack of time or enthusiasm to create a delicious and healthy evening meal.
If you take the time to pre-prepare some meals at the beginning of each week, this will never be an issue!
Preparing your meals is not just fun and rewarding, it's an amazingly effective strategy to stick to your weight loss meal plan.
Visualize
You need to visualize what you wish to achieve. This will help to motivate you and remind you of why you are eating healthier and exercising. A personal weight loss meal plan is about more than losing weight; it will enable you to be there for your children.
You may even outrun them!
Small Goals
If you need to lose a large amount of weight, it can be disheartening to look at the scales and see them move ever so slightly downwards.
Instead of focusing on the 50 pounds you want to lose, set yourself weekly goals of 2 pounds. This is achievable and will give you a feeling of accomplishment every week.
Alongside this 2 pounds a week is a much healthier way to lose weight; if you lose too much too quickly, you're likely to put it back on.
Start Now!
Join the FF30X today. It's more than just a way to get a personal weight loss meal plan; it will give you the support and knowledge you need to become the man you want to be.
THE 30-Day Health Program for Men 40+
Fit Father 30X is the world's first sustainable weight loss plan for fathers.
Get yourself back into great shape - at any age the Fit Father way.
Your new friend & health coach,
Stuart Carter
Head Training Staff, The Fit Father Project
Brotherhood Nickname: "The Fit Brit"
Bragging Rights: 16 Years in the fitness industry, Author of 'The Easy Fitness Guide', Father of 4 boys and Husband to a Venezuelan beauty.
If you're interested in a proven and completely laid out "done-for-you" weight loss meal plan & workout routine – designed for you as a busy man…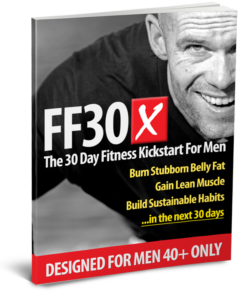 I'd recommend you read the program overview letter for our Fit Father 30-Day Program (FF30X).
Inside FF30X, you'll receive:
The simple & delicious Fit Father Meal Plan
The metabolism boosting Fit Father 30X Workout (under 90 min/week)
VIP email coaching where I'll personally walk you through the program
Read the FF30X Program overview letter here to see how our plan can help you lose weight – without the complication & restriction of normal diets.
*Please know that weight loss results & health changes/improvements vary from individual to individual; you may not achieve similar results. Always consult with your doctor before making health decisions. This is not medical advice – simply very well-researched info on weight loss meal plans.