W
hat do you think of when you hear the word antioxidants?
I
f you're unfamiliar, you may just think its just another buzzword in the fitness community for some kind of superfood.
While fitness junkies are all about antioxidants, let us tell you about our favorite way to think about them.
We visualize antioxidants as tiny, but powerful warriors, that can protect you and your cells against the harmful effects of free radicals.
Sounds intense, right?
But cute metaphors aside, antioxidants really do look out for us and boost our overall health.
Read on to learn the number of health benefits of antioxidants, the best ways to consume them, and what the heck free radicals even are.
Antioxidants for Men: Why Do We Need Them?
Antioxidants have an incredible effect on the body.
These tiny warriors can improve our heart health, work to prevent infections, help prevent cognitive decline, and even help to prevent certain cancers.
In everything that they do, antioxidants are battling what we call free radicals.
While explaining the chemistry of free radicals is a bit complex (Medical News Today does a good job if you're hoping to dive in), it's easy to list out the ways that they are present in our lives.
These are a few contributors of free radicals in our body:
Smoking
Environmental factors like pollution
Too much exercise
Trauma in our tissues due to injuries
Radiation
Bad foods that are refined, processed or artificial
Certain chemicals like pesticides and some drugs
Ozone
Some pretty bad stuff, right?
The good thing is, antioxidants are up for the challenge.
Antioxidants for Men: Where Can We Find Them?
That gnarly list of things that create free radicals is argument enough for why we need antioxidants.
B
ut where can we find them?
The weird thing is, you won't ever find "antioxidant" on nutrition labels. That's because "antioxidant" isn't the name of a certain food, but rather a name of what those foods DO.
Antioxidants are present in many different forms across natural foods and substances. You may already be eating some of them!
Here are some everyday foods that are excellent sources of antioxidants:
Fruits: Strawberries, blackberries, raspberries, blueberries, cranberries, grapes, citrus, fruits with pits
Vegetables: Kale, artichokes, bell peppers, broccoli, beets, asparagus, tomatoes
Nuts: Hazelnuts, pistachios, walnuts, pecans, almonds
Starches: Sweet potatoes
Legumes: Edamame, kidney beans, lentils
Here is a list of some additional antioxidant sources:
Teas: green tea (especially matcha), black tea, white tea, oolong tea,
Spices: cumin, oregano, ginger, cinnamon, clove, tumeric
Treats: Quality dark chocolate, red wine in moderation, coffee, tea
FREE

1-Day Weight Loss Meal Plan For Men 40+
Lose weight. Eat like a man. Enjoy your life. Over 55,000 men are using this.
Get yourself back into great shape - at any age the Fit Father way.
Antioxidants for Men: Are They All the Same?
As you're reading through the list, it may be easy to say, "Oh, I already eat blueberries. I'm all stocked up on antioxidants!"
W
rong.
Just as antioxidants take different forms in foods and substances, they take different actions in your body.
The list of foods and supplements that contain antioxidants is a great way to familiarize yourself with the array of options out there.
But when it comes down to it, these are the vitamins within those foods that contain the antioxidants.
vitamin E
beta-carotene
vitamin C
vitamin A
lycopene
lutein
selenium
zeaxanthin
manganese
Every antioxidant does a slightly different job in our bodies, which is why it's imperative to have a varied and balanced diet.
Antioxidants for Men: How Much is Enough?
Before you get too antioxidant happy, it's important to know the correct dosage of antioxidants for men.
I
know, we spent all this time telling you how amazing antioxidants for men are, and now we're putting a limit on it?
Like everything in life, a moderate dose of antioxidants is all you need – and in fact, is all that's healthy for you.
It is unlikely that you'll ever eat too many natural foods that contain antioxidants to ever be unhealthy. Realistically, you would tire of the flavors and move onto something else.
However, antioxidant supplements are where the potential danger of overdose lies.
It has been found that excessively high doses of beta-carotene supplements have led to an increased risk of lunch cancer in smokers. Also, high doses of vitamin E supplements have been seen to lead to risk of hemorrhagic stroke and prostate cancer.
While there are serious risks to high doses of antioxidant supplements, a balanced diet with an array of natural antioxidant foods is perfectly safe.
Live Boosted
A
ntioxidants are a great way to boost an already-healthy lifestyle.
If you need help on getting the rest of your diet and exercise planning up to par, we can certainly help with that.
Our top program is called FF30X. In it, you'll find our meal plan, workouts, and accountability system. The three things every man over 40 needs to lose weight and keep it off. 
The FF30X "No Think" Meal Plan lays out the exact diet plan you'll need to lose weight without feeling hungry, tired, or battling cravings like restrictive diets.
The FF30X Lean Muscle Workouts are safe & time-efficient workouts that you can do at your home or at the gym – all in under 120 minutes a week.
And last but seriously not least, the FF30X Accountability System provides you with accountability emails that keep you on track and motivated to ensures your success on the program.
Join us and our band of brothers as we reclaim our energy and confidence.
Your friend in health,
Dr. Anthony Balduzzi
Founder, The Fit Father Project
Brotherhood Nickname: "Mr. Results"
Bragging Rights: Has helped over 10,000 fathers lose over 75,000lbs and rebuild lean muscle
P.S. If you haven't seen my FREE 1-Day Meal Plan for Men over 40, I highly recommend you click here to get a free copy sent directly to your email. Remember: nutrition is a core foundation of weight loss for men over 40.
If you're interested in a proven and completely laid out "done-for-you" weight loss meal plan & workout routine – designed for you as a busy man…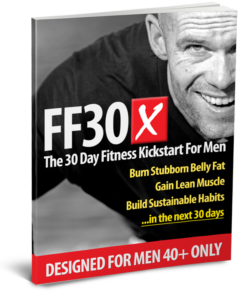 I'd recommend you read the program overview letter for our Fit Father 30-Day Program (FF30X).
Inside FF30X, you'll receive:
The simple & delicious Fit Father Meal Plan
The metabolism boosting Fit Father 30X Workout (under 90 min/week)
VIP email coaching where I'll personally walk you through the program
Read the FF30X Program overview letter here to see how our plan can help you lose weight – without the complication & restriction of normal diets.
*Please know that weight loss results & health changes/improvements vary from individual to individual; you may not achieve similar results. Always consult with your doctor before making health decisions. This is not medical advice – simply very well-researched info on antioxidants for men.