H
ave you ever heard of sarcopenia? This is the name given to the natural process of muscle loss through aging and happens to all men from the moment you turn 30.
BUT… you can do something about it.
Building lean muscle mass is the key to reversing this process.
FACT: Older men with sarcopenia are twice as likely to obtain a fracture when they fall.

Fortunately, there is a solution! Nature may be looking to relieve you of as much as 5% of your muscle mass per year; but, with the right diet and exercise you can build lean muscle mass; or simply retain the amount you have.
It doesn't matter how old you are; it's not too late to start building muscle. The Fit Father Project and I are here to help you!
Small steps are all it takes for you to reap huge rewards.
All you need is the desire to improve your health, the right mindset and a good diet; the free 1-day meal plan will give you an idea of what you should be eating.
Here's A Free Weight Loss Meal Plan For Busy Men 40+
Discover exactly what to eat for breakfast, lunch, and dinner to lose belly fat & feel energized 24/7 without hard dieting...
Of course, exercise will also play a key part; try our 5 Best Muscle Building Exercises today!
Discover 5 Reasons For Building Lean Muscle Mass
Building lean muscle mass means improving the amount of muscle in your body and keeping body-fat levels down.
The other parts of your body that make up your weight, such as organs and bones, are unlikely to fluctuate.
Building lean muscle mass is usually achieved through exercise, as pushing your muscles to their limits encourages small tears. As these heal, your body builds up stronger and healthier.
It's important to note that as you age, you tend to be more prone to injury.
Building lean muscle mass can help to reduce the risk, but you must adopt an approach which allows you plenty of rest between workouts and a gradual build-up of your workout plan.
What Are The 5 Best Muscle Building Exercises For Men 40+?
The secret to building age-defying muscle in your in 40s, 50s, & 60s is to modify the best muscle building exercises (bench, squats, rows) to make them safe on your joints…
Reason # 1 – Long Term Health Benefits
As you age you will become more aware of your mortality. Unfortunately, aging is generally associated with less mobility and an increased likelihood of contracting a variety of chronic illnesses, such as coronary issues, diabetes and even cancer.
Building lean muscle mass will improve your circulation; a higher blood flow to all your organs will help them to remain healthy.
In addition, more muscle will help to undertake daily activities with confidence as your muscles are essential for every movement you make.
Muscles are also a critical part of your fight against diabetes. Your muscles store glycogen in order to have a readily available energy source when needed.
Glycogen comes from carbohydrates you consume.
Building lean muscle mass means your body can store more glycogen; preventing it from being turned into fat and helping to control the level of glucose, the natural form of glycogen, in your bloodstream.
Excess glucose in your blood has been linked with increased insulin resistance and the onset of diabetes.
Reason # 2 – Strong Bones
Building lean muscle mass has been shown to improve the strength of your bones. Although your exercise is targeting your muscles, you may be surprised at how it can affect your bones.
In fact, the material which makes up your bones is constantly being renewed. In general, the density of your bones will decrease with age; a lower BMD will equate to a higher chance of breaking a bone in a fall.
Research shows that the bones actually adapt to the pressures being placed on your body.
The more resistance you place on your muscles, while building lean muscle mass, the stronger your bones will become.
Put simply, your bone and muscle will react to the demands you place on them.
Building lean muscle mass will improve your bone density, reduce the chances of osteoporosis and leave you less likely to be injured if you fall.
Reason # 3 – Decreased Fat
Muscles burn energy. In fact, they will burn 2 – 3 times as many calories as the same amount of fat.
The more muscle you have the more calories you will be able to burn and the less there will be in your body to convert to fat.
If you consume less calories than you need to burn on a daily basis, then your body will actually convert your fat cells into energy and burn them instead.
Consequently, building lean muscle mass doesn't just stop you adding fat, it will naturally help to decrease your body fat percentage.
Of course, you need to eat healthily to ensure your body has the nutrients it needs without excessive calories.
You can check out our free 1-day meal plan to help you get started eating right.
Reason # 4 – Increased Energy Levels
As soon as your muscle mass starts to increase and your fat levels drop you will notice you have more energy. Your body is ready and willing to undertake activities that you would not have contemplated just a few weeks before.
This is simply a result of your energy being used differently and your body being accustomed to moving.
It is possible to run around with your grandchildren as you used to do with your own children; you can still be the best granddad on the block!
Reason # 5 – Confidence
A huge benefit of building lean muscle mass is that your body shape will change.
You will suddenly feel better and look better. It doesn't matter if you are in your 50's or even 60's; you can look better than men in their 20's.


This is becoming an increasingly common occurrence as older men, such as yourself, seek to be the best that they can be.
The additional benefit of looking and feeling better is that your confidence will improve. You will suddenly feel capable of talking to anyone or doing anything; because you know your body, as well as your mind, is willing.
It doesn't matter if you are looking for love again, a good time, or to undertake the challenge you never thought possible before.
By building your lean muscle mass, you could even attempt to climb Everest; even at 60!
Your new friend & health coach,

Here's How Busy Guys 40+ Are Building Age-Defying Muscle And Strength… Working Out Just 3 Hours Per Week...
This proven "Old School Muscle Program For Guys 40+" combines the "old school" bodybuilding secrets with the "new school" science… to produce muscle & strength building results fast.
Only for guys 40+ who want to build muscle.
If you're frustrated with stubborn belly fat, failed diets, and time-consuming workouts, this is the answer you've been looking for…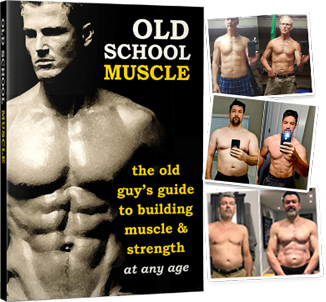 Old School Muscle (OSM) covers every aspect of building muscle for you as a guy 40+:
Old School Muscle (OSM) covers every aspect of building muscle for you as a guy 40+:
The 9-Week Muscle Building Program – safe, joint-friendly exercises
VIP Accountability Coaching – our Fit Father Team will personally walk you to success, step-by-step.
See the Old School Muscle (OSM) Program overview here. You'll discover how this proven program has helped thousands of guys 40+ pack onage-defying muscle and strength – the smart & sustainable way. »
Small note about research cited in this article:
*Always remember: weight loss results & health changes/improvements vary from individual to individual. Just because these studies cite certain data does not mean you will experience these results/outcomes. Always consult with your doctor before making decisions about your health. This is not medical advice – simply well-researched information on Building Lean Muscle Mass. Thanks for reading!