Cardio for men? Yes, there's more to working out than lifting weights! If you want to keep your body in the best physical shape possible, then cardio workouts are a must.
Aerobic and anaerobic exercises build strength, improve your coordination and balance, strengthen your heart, and enhance your cardiovascular and muscular endurance.
On top of building cardiovascular fitness, cardio for men also burns a ton of calories and, in turn, aids in weight loss.
In order to lose fat, it's important to pick workouts that fit your goals and current fitness abilities.
A lot of guys dread aerobic workouts because when they hear the word "cardio" they picture plodding along on a treadmill or spending hours on an exercise bike.
However, the best cardio for men to burn calories and improve fitness includes a wide range of activities that will keep you motivated and coming back for more every day!
So put away your preconceived notions and get ready to embrace cardio for men!
How Guys 40+ Are Using "Old School" Secrets To Build Age-Defying Muscle
Ever thought you were "over the hill" or "too far past your prime" to build muscle and get strong again? Well, think again…
Lose Weight and Improve Your Long Term Health
Cardio for men is not just going to help you lose weight.
Regular aerobic physical activity has been shown to decrease the risk of chronic diseases like type 2 diabetes, certain cancers, and depression.
Plus, cardio improves your overall functional capacity and reduces the risk of injury from falls and osteoporosis.
So if you're ready to transform your body and your health, take your pick from the following top 7 cardio workouts for men!
The Ultimate Guide to Cardio For Men
HIIT
High-intensity interval training has become all the rage lately, and for good reason!
This subset of cardio will have you dripping in sweat the entire time as you switch from one heart-pumping exercise to the next.
HIIT combines all of the tremendous benefits of pure aerobic exercise with strength training.
High-intensity intervals can incorporate bodyweight or light free weights to target every part of your body.
Plus, studies have shown that HIIT burns similar calories when compared to longer bouts of lower intensity endurance exercise even though these sessions are much shorter in duration.
This means you can burn fat without spending hours at a time in the gym!
There are a number of ways to incorporate HIIT into your weekly workout schedule.
While many gyms offer their own version of HIIT classes, this may not be an option with many gyms and group classes currently canceled.
Luckily, there are a number of online fitness apps and videos that can bring HIIT right to your own living room!
Learn how to do cardio at home to lose weight with HIIT and LISS!
You can also try out this quick HIIT workout that only requires a small area of space and your own body weight to complete.
This HIIT workout emphasizes power moves that will have your heart pumping and will also target all of your major muscle groups.
Since this is a high-intensity workout, you don't want to jump in cold.
Warm-up with some light cardio for 3-5 minutes.
This could be easy jogging, jump rope, or jumping jacks. Really anything to get the heart and muscles warmed up.
Fat Burning HIIT Cardio For Men
Set 1:
Burpees with push up for 20 seconds, rest 10 seconds
High knees for 20 seconds, rest 10 seconds
Mountain climbers for 20 seconds, rest 10 seconds
Spiderman push-ups for 20 seconds, rest 10 seconds
Repeat the circuit three times
Rest for one minute
Then move on to set 2
Set 2:
Alternating jump lunges for 20 seconds, rest for 10 seconds
Side to side push-ups for 20 seconds, rest for 10 seconds
Jump squats for 20 seconds, rest for 10 seconds
Chair (or floor) tricep dips for 20 seconds, rest for 10 seconds
Repeat circuit three times
Then cool down for 5-10 minutes
This bodyweight HIIT workout can be done in 6 minutes without ANY equipment!
Resistance Training Circuit
With resistance training circuits you combine the benefits of muscle building exercises with heart-pumping cardio.
This is similar to HIIT, however, the strength training moves tend to be slower and more controlled.
The best circuit workouts will include strength training exercises that target all of your major muscle groups-upper body, lower body, and core.
These moves can be with free weights, resistance bands, or your own body weight.
By taking minimal rest between each exercise you will keep your heart rate high and metabolism firing.
This will burn serious calories and contribute to fat loss.
If you don't know where to start, check out this calorie-burning cardio and resistance circuit.
Resistance Cardio Circuit For Men
Move from one exercise to the next with minimal rest (10-15 seconds).
After finishing the circuit, rest for 3 minutes, then repeat 4 times.
Pushup: 10-15 pushups
Pullup: 8-10 Pullups
Kettlebell Swing: 15 reps
Plank: Hold for 30-60 seconds
Renegade Row: 10 reps
This metabolic resistance training workout plan will help you lose fat and burn calories!
Running
Yes, I know I said that you don't have to get on a treadmill to add cardio to your life.
But that doesn't mean that running still isn't a great form of exercise to burn calories and shed fat.
Plus, you can make running fun!
Outdoor running or jogging is a great way to stay in shape and enjoy nature.
You can join a running group or invite friends to come along with you to motivate you along the way.
You can also spice up your running workouts by adding sprints or intervals.
This adds variety to an otherwise mundane run and bumps up your metabolism even more.
A study out of the International Journal of Sport Nutrition and Exercise Metabolism showed that two minutes of sprint intervals produced similar post-exercise oxygen consumption compared to 30 minutes of continuous running at a lower intensity.
Running is a great cardio option since you can perform this exercise at a higher intensity, and burn more fat as a result.
Plus, you will continue burning calories up to 24 hours after a tough run.
Running also builds your leg muscles and strengthens your core, which will improve your overall athletic performance in all other activities.
Want to run longer and better? Watch this video!
Swimming
Swimming is an awesome full-body cardio workout.
Laps in the pool improve your heart and lung capacity and overall health.
Plus, you will build strength in the upper body, core, and even the lower body through kicking.
Pool workouts don't always have to be about just swimming laps either.
Most community pools offer aqua aerobics and other pool workouts that get you a great full-body workout without stressing your joints.
Rowing
Rowing machines provide an excellent total body workout, in addition to being a great high-intensity way to burn body fat.
It works all the major muscles of the body and is lower impact than running.
Plus, rowing burns more calories than most other aerobic exercises.
Research shows that the caloric expenditure of rowing estimated from the O2 cost of a 6-minute rowing ergometer exercise was calculated at 36 kcal/min, one of the highest energy costs so far reported for any predominantly aerobic-type sport.
This bent-over dumbbell row is a great workout for your lats and can easily be done from home.
Hiking
Venturing into the great outdoors is an excellent way to add variety to your workouts and burn some serious calories.
Hiking is a great cardio option that will also build lower body and core strength.
By picking a technical trail you will also improve your balance and coordination.
Choosing tough trails to hike can even burn more calories than running!
One study that estimated energy expenditure based on GPS data found that hikers burned the greatest amount of net energy (916 kcal), followed by runners (790 kcal), and finally walkers (450 kcal).
This seemed to be due to the fact that hikers preferred more difficult tracks with greater slopes.
So if you are feeling up to the challenge, pick out a tough course and hit the trails with your family or a group of friends to burn some serious calories.
Learn about the importance of walking every day and how it can DRASTICALLY improve your overall health.
Cycling
Cycling is an awesome aerobic activity that will improve your cardiovascular fitness and lower body strength, similar to running.
However, cycling is low impact and is a great option for guys with knee pain that can't take the pounding of running on their joints.
There are a few different ways to incorporate cycling into your fitness routine.
If you have access to a gym you can create your own exercise bike workout that utilizes high- and low-intensity resistance.
Or, if you are feeling up to more of a challenge you can join a spin class and really sweat it out.
You can also jump on a bike and take to the roads or trails around your home.
Outdoor bike rides are a great way to burn calories.
You may even be able to join a local bike club to ride with fellow cyclers to really push yourself along the way.
In this video, we go over the finer form points of bicycle crunches that make this exercise effective.
Cardio to Lose Weight and Stay Motivated
There are so many ways to incorporate cardio into your fitness routine to lose weight, gain strength, and lead a higher quality of life.
And with so much variety available, you never have to be bored when choosing your workouts.
Whether it be a killer HIIT session in your living room or a long hike with the family, you can find the best cardio to suit your needs and help you lose weight and gain muscular strength and endurance.
Here's How Busy Fathers Over 40 Are Finally Burning Stubborn Belly Fat & Getting Healthy Without Restrictive Diets or Time-Consuming Workouts
This proven "Fit Father Program" has helped 38,000 busy men 40+ lose weight, rebuild muscle, and finally keep the weight off.
If you're frustrated with stubborn belly fat, failed diets, and time-consuming workouts, this is the answer you've been looking for…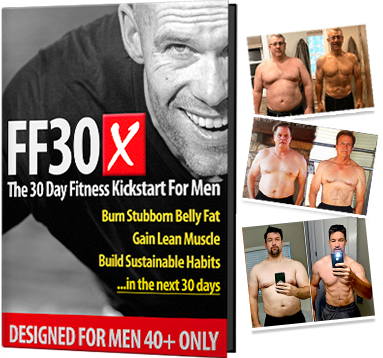 Join 38,000 guys in over 108 countries that are using FF30X to lose weight. You get everything you need to succeed – including:
The Fit Father Meal Plan – with simple & delicious recipes
Safe & Effective Workouts Program – only 90 min/week
VIP Accountability Coaching – our Fit Father Team will personally walk you to success, step-by-step.
LEARN MORE ABOUT FF30X >>
See the FF30X Program overview here. You'll discover how this proven Fit Father Program can help you lose weight and actually keep it off – without the complication and restriction of normal diets. »
*Please know that weight loss results & health changes/improvements vary from individual to individual; you may not achieve similar results. Always consult with your doctor before making health decisions. This is not medical advice – simply very well-researched info on cardio for men.