F
or many of us, the concept of staying true to our New Years' fitness resolutions is hard to fathom. We can spend a lot of time coming up with ideas about how, this January, we will change. That
this year, we
will
 do it
. Most of the time, such proclamations and beliefs often fall flat on the canvas. If you want to be more likely to stick to your aim of a happy and optimistic New Year fitness regime, then we have some helpful ideas waiting for you below.
Using these, you should find it nice and easy to work out where you need to make considered change. If you wish to start making sure you can start improving your fitness goals on a daily basis, then might we recommend that you try out the following goals?
These should all play a considerable role in making sure you can begin to make some optimistic changes for the year to come. Now, with the right kind of impetus and innovation, you should be much more likely to stick to those goals and no longer feel like they are quite so loft in ambition!
THE 30-Day Health Program for Men 40+
Fit Father 30X is the world's first sustainable weight loss plan for fathers.
Get yourself back into great shape - at any age the Fit Father way.
Patience Pays Off
First off, remind yourself that this is a long-term game.
Most of us get to the second or third week in January, don't see any drastic changes and just give up on our ambitions to get into better physical shape.
Instead of giving up, remind yourself that the path to self-improvement is a long one.
If you expect to have cut off all of that winter timber by the mid-point of the month, you are mistaken.
Instead, set a more long-term goal: aim for Easter, and it becomes much easier to track and enjoy your results.
Get Into Better Starting Shape
The first big change you need to make is that you need to get into better shape physically.
Start off by getting into more reliable shape by going for some basic runs and some light cardio exercise. Do a quick tour around your local shopping center or supermarket: do you feel out of breath just walking around the shopping circuit? If you do, then keep on going!
Some simple morning runs or some work on an exercise bike is sure to go a long way to making sure you can get into better shape from a physical point of view.
Pair Up With a Friend
We recommend that you look to make some changes by investing in the need for culpability.
If you wish to get into good physical shape, then you should almost certainly pair up with a friend to help make sure you can work yourself and your friend into doing better.
That extra competition and motivation will go a long way to making sure that both parties can have some fun and really enjoy themselves. You'll also be much more likely to keep at it if you want to avoid being shouted at by your partner!
Make Sure You Invest in a Smarter Start
First off, make sure you get rid of all the distractions and treats.
Christmas often brings many boxes of chocolate and savory treats, so you should look to use this Christmas to make a meaningful change to the way that you work.
Start off by being committed. Give away all of the boxes of snacks and condiments, and then make sure that you do the same with all of that excess Xmas alcohol. The more that you can do to remove this stuff from temptation, the better your results will likely be!
Get Ready for Winter Weather
Of course, part of the problem with trying to lose weight post-New Year is the comically bad weather.
It's easy to just convince yourself that it is too wet, sloppy or dark to go out for a workout. To counter that, invest in two pieces of indoor workout equipment – one strength, one cardio – for now. You can vary it up as time goes on.
If you do this, then you can just follow along with the weather and choose whether or not to go outside. Crucially, though, this removes your most potent and prolific winter excuse.
Guide Yourself
You should look to make an investment in a fitness tracker, too. Why not ask for one for Christmas from that special someone?
Now you can easily start to make more intelligent decisions about your workout and to help see where you need to make changes.
We also recommend that you learn about your Body Mass Index (BMI) and start using a BMI calculator to see where you stand in relation to your own body height. It's not perfect but, armed with other analytical technology, is great for some self-education on the matter.
Always Track Yourself
A failure to track your progress is a failure to stay motivated.
The best way to stick to those New Year weight loss goals is to always track yourself and pay attention to how things are going for you physically. If you see that you have made a lot of progress in the last week or two, it can give an immense boost in self-confidence.
Keeping that in mind, you should be much more likely to start seeing some positive and meaningful results from a fitness perspective. Tracking your progress really will make a considerable difference.
Making Sure You Stick to the Plan
With the above ideas, you are now as ready as you likely ever will be if you want to start getting into top shape physically and mentally. If you want to start sticking to the plan and seeing benefits, then be sure to try out all of the above ideas.
Also, be sure to use the BMI calculator as it will help you to ensure that you can get a sense of where you at physically, and therefore how close you are to sticking to your New Year fitness aims!
Author Bio: James Adams is a community manager at  JustHCG, he is passionate about website operations and learning the latest web trends.  When not working James enjoys working out at the gym and cycling.
FREE

1-Day Weight Loss Meal Plan For Men 40+
Lose weight. Eat like a man. Enjoy your life. Over 55,000 men are using this.
Get yourself back into great shape - at any age the Fit Father way.
If you're interested in a proven and completely laid out "done-for-you" weight loss meal plan & workout routine – designed for you as a busy man…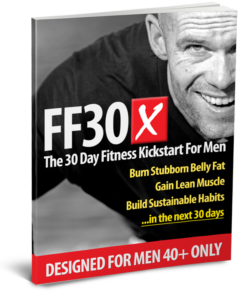 I'd recommend you read the program overview letter for our Fit Father 30-Day Program (FF30X).
Inside FF30X, you'll receive:
The simple & delicious Fit Father Meal Plan
The metabolism boosting Fit Father 30X Workout (under 90 min/week)
VIP email coaching where I'll personally walk you through the program
Read the FF30X Program overview letter here to see how our plan can help you lose weight – without the complication & restriction of normal diets.
*Please know that weight loss results & health changes/improvements vary from individual to individual; you may not achieve similar results. Always consult with your doctor before making health decisions. This is not medical advice – simply very well-researched info on sticking to new year's resolutions.