B
ecause a wide variety of fitness and nutrition trends are in the media, it can be difficult to know which weight loss and fat burning philosophies are the most effective. The best way to burn fat for men includes a sustainable diet and a high intensity workout schedule.
At the Fit Father Project, the philosophy for achieving better health is simple:
Clean up your diet
Work out regularly
Take responsibility for your health
Have a positive attitude
Be more aware of general fitness and the overall impact of your decisions
Dads over 40 lead busy lives and strive to balance work, family, and taking care of themselves. The Fit Father Project helps you achieve the perfect balance of each, and allows even the busiest dads to achieve their desired body weight and muscular physique.
FREE

24-min Fat Burning Workout
All you need is 24 minutes + 10 feet floor space + 1 pair dumbbells
Get yourself back into great shape - at any age the Fit Father way.
The Most Effective Fat Burning Workouts for Men
Achieving and maintaining optimal health is possible for every father regardless of his initial body weight, body fat percentage, and busy schedule. Having the right tools in place and motivational support from health experts at the Fit Father Project is all it takes to get started on the road toward a longer, healthier, and happier life.
Any form of new exercise helps you burn fat when you're not accustomed to regular exercise. When you're tight on time, high-intensity training gets you the best results possible in fewer minutes. It helps you build lean muscle mass in addition to shedding fat.
While both are effective for fat burning, high-intensity interval training burns more fat in a shorter time frame than continuous cardiovascular exercise and traditional weight training when you're tight on time. There are numerous ways you can complete high-intensity interval training (HIIT) to achieve maximum fat-burning results:
#1 HIIT Cardio Training
When you're ready to shred up for summer, consider high-intensity interval cardio training at a gym or outdoors. When choosing this fat-burning method, you'll begin with:
A 5-minute warm up
1 minute of high-intensity sprinting
1-2 minutes of lower-intensity jogging
Alternating high-intensity bouts with lower-intensity recovery periods for a total of 20-30 minutes
If you're at a gym, try different forms of cardiovascular exercise rather than simply running and jogging.
For example, you can sprint for 1-2 minutes on a treadmill, walk to the next cardio machine, row at a high intensity for 1-2 minutes, and switch to another high intensity exercise. If you have access to a pool, consider HIIT swimming too.
#2 HIIT Cardio Plus Resistance Training
You can also complete high-intensity interval training with resistance training plus cardio workouts to burn fat AND build muscle. Examples of this are:
Full Body HIIT
Burpees for 1 minute
Deadlifts for 1 minute
Jumping jacks for 1 minute
Squat to press with a medicine ball for 1 minute
Rope jumping for 1 minute
Plank rows (20 rows for each arm)
Sit ups or crunches for 2 minutes
Rest for 1-2 minutes
Complete this circuit two more times
Lower Body HIIT
High knees for 1 minute
Plyo box jumps for 1 minute
Rope jumping for 1 minute
Walking lungs (20 for each leg)
Side to side jumps for 1 minute
Step ups (20 for each leg)
Leg raises for 2 minutes
Rest for 1-2 minutes
Complete this circuit two more times
Upper body HIIT
Rowing for 1 minute
Dumbbell chest flies for 1 minute
Burpees for 1 minute
Triceps dips for 1 minute
Weighted jumping jacks for 1 minute
Biceps curls for 1 minute
Weighted Russian twists for 2 minutes
Rest for 1-2 minutes
Complete this circuit

two more times
#3 HIIT Resistance Training

Instead of traditional strength training, try HIIT resistance training instead to shred up in no time. During this HIIT workout, you'll superset strength exercises by working opposite muscle groups continuously without resting between sets. For example, you might try:
Upper Body HIIT Resistance Training
Alternate 10-20 reps of biceps curls with 10-20 reps of triceps extensions for a total of 4-6 sets
Rest for 1-2 minutes
Alternate 10-20 reps of lateral arm raises with 10-20 reps of front arm raises and 10-20 reps of standing shoulder presses for a total of 4-6 sets
Rest for 1-2 minutes
Alternate 10-20 reps of bent-over reverse flies with 10-20 reps of dumbbell chest flies for a total of 4-6 sets
Lower Body HIIT Resistance Training
Alternate 10-20 reps of dead lifts with 10-20 reps of wide-stance dumbbell squats for a total of 4-6 sets
Rest for 1-2 minutes
Alternate 10-20 reps of walking lunges with 10-20 reps of calf raises for a total of 4-6 sets
Rest for 1-2 minutes
Alternate 10-20 reps (on each side) of single leg dead lifts with 10-20 reps of narrow stance squats for a total of 4-6 sets
#4 Additional Fat-Burning Workouts
In addition to HIIT workouts, change up your routine often and choose competitive sports at your local gym or with a city league to work different muscle groups and reduce excess body fat quickly. Try the following fat-burning sports activities in your free time:
Basketball
Racquetball
Soccer
Touch football
Tennis
Fun or mud runs
Cross Fit competitions
Clean Eating for Men 101
Changing your diet is the single best way to burn fat for men. Switching from the standard American diet to a clean fat-burning meal plan involves making a few simple dietary changes, such as:
#1 Load Up on Vegetables, Protein, and Healthy Fats
Non-starchy vegetables, protein, and healthy fats are the three main nutritious foods you'll focus on when fat burning is your goal. That's because non-starchy veggies are fiber-rich and fill you up without the extra calories, and protein and healthy fats boost satiety to keep you full longer and curb junk food cravings. Examples of foods to choose when fat burning is your goal are:
Non-starchy vegetables: leafy greens, bell peppers, broccoli, cauliflower, tomatoes, cucumbers, mushrooms, asparagus, zucchini, green beans, and onions
Protein foods: chicken, turkey, fish, seafood, eggs, low-fat cottage cheese, nonfat Greek yogurt, reduced-fat cheese, plant milk, tofu, seitan, and protein smoothies
Healthy fats: oils, oil-based dressings, avocados, olives, nuts, seeds, and nut butters
For best fat-burning results, aim to fill half of each plate with non-starchy vegetables, one-fourth of your plate with protein foods, and one-fourth of each plate with fiber rich-carbohydrates – such as peas, beans, lentils, other legumes, corn, sweet potatoes, quinoa, brown rice, oatmeal, and fruit.
#2 Consider Meal Replacement Protein Shakes
To make weight loss simple, especially when you're on the go, try replacing one or two meals with a protein smoothie to reduce your overall calorie intake, boost satiety, and keep energy levels high during weight loss.
Consider the Fit Father Project healthy protein shake recipes you can prepare at home using your favorite protein powder, containing about 300 calories per serving. These recipes are loaded with protein, healthy fats, and fiber to keep you full longer between meals.
#3 Drink Water before Meals
If you struggle with overeating at meal time, drinking water before meals can help! Studies show that drinking 2 cups of water within 30 minutes of eating helps you fill up and eat fewer calories during meals. Aim for a total daily water intake of 16 cups daily for men.
#4 Try Intermittent Fasting
Experiment with intermittent fasting to maximize fat burning results. Numerous methods for intermittent fasting and intermittent calorie restriction have been effective for weight loss in men in research studies.
Studies show that intermittent energy restriction (alternating days of calorie restriction with normal eating days) is an effective fat loss strategy.
Consuming all daily calories within an 8-hour window combined with resistance training helps decrease body fat in men, studies show.
To implement these intermittent fasting strategies in a fat loss meal plan, try the following:
Reduce your overall daily calorie intake six days weekly and allow yourself one cheat day each week.
OR
Eat all your meals and snacks between 8am and 6pm each day, or choose another 8-hour time block that best fits your schedule.
For effective weight and fat loss, reduce your usual energy intake by about 500-1,000 calories per day. For many men, this means eating 1,500-2,000 calories per day.
#4 Drink Green Tea or Coffee
Caffeine and other components of green tea and coffee appear to enhance weight and fat loss, according to numerous studies.
Some reasons for this because of caffeine's effects on increased energy expenditure, a lower energy intake, and better fat oxidation. Caffeine also gives you more energy during workouts, which helps boost calorie expenditure even more.
#5 Try a Plant-Based Diet
You don't have to follow a vegetarian or vegan diet to effective shed pounds and body fat, but doing so is a fairly simple way to drop excess weight if you don't mind nixing meat from your meal plans. Studies show that vegetarian diets, especially vegan (entirely plant-based) diets, appear to be more effective for weight loss than non-vegetarian diets.
By carefully plant-based menus, you can still get all of the protein and other essential nutrients your body requires daily to function properly.
#6 Eliminate Processed Foods
Eating plenty of protein, healthy fats, and non-starchy veggies helps lower your craving for junk foods that hinder weight and fat loss. But if you're struggling to eliminate all unhealthy foods at once, try nixing just a few from your diet initially and slowly eliminating the others over time Or, allow yourself a cheat day every no and then so you don't feel deprived. Foods to slowly eliminate from a fat-loss diet include:
Whole milk and other full-fat dairy foods
Hot dogs, bacon, cold cut meats, and other processed meats
High-fat cuts of red meats
Fried foods
Baked goods
Sweets
Sugary drinks
Refined grains like white bread and regular pasta
Prepackaged foods and other highly processed foods
Alcoholic drinks
The fewer of these foods you eat regularly the better your chance at slimming down, maintaining or building muscle, increasing energy, and maintaining lost weight for life.
Should I Try Fat-Burning Supplements?
Check in with your doctor to find out which fat-burning supplements may be a good match with your needs. Fat-loss supplements that have been successful in research studies for fat burning include:
#1 Whey Protein

Protein is known to boost satiety, help your body burn extra calories, and maintain lean muscle mass even during periods of calorie restriction.
Numerous studies show the benefits of whey protein for fat loss. Try a whey protein smoothie after workouts or as a meal replacement when fat loss is your goal.
#2 Probiotics
Believe it or not, ingesting probiotics (healthy gut bacteria) appears to enhance weight and fat loss. Research shows that these tiny organisms help regulate appetite and food intake, and improve weight and fat loss in animal and human studies. Consider taking probiotics supplements or eat probiotics-rich foods like Greek yogurt, unsweetened kefir, or sauerkraut.
#3 Fiber

When eating a well-balanced fat-loss diet rich in fruits, vegetables, legumes, nuts, seeds, and whole grains, you shouldn't have a problem meeting fiber recommendations of 30-38 grams daily for men.
However if you don't always consume enough fiber or you'd like to enhance weight and fat loss, consider taking a fiber supplement. Studies show doing so often makes it easier to shed pounds.
How Should I Begin My Fat Loss Journey?
With so much information circulating about various fat-burning diet and exercise programs, it's easy to feel overwhelmed and wonder where to begin your weight and fat loss journey. That's why the Fit Father Project comes in handy for busy fathers seeking better health who don't have much free time.
The Fit Father Project 30X (FF30X) is a weight loss program that's helped thousands of busy fathers like you build muscle, burn fat, get the six-pack abs they desire, and maintain their new muscular physique for life.
When you sign up for FF30X, you'll receive meal plans, menus, recipes, fat burning workouts, weekly newsletters, support from a community of fit fathers, Q&A sessions with health experts, and much more!
To get started, sign up for the Fit Father Project's:
You'll feel better, have more energy, drop excess body fat, gain strength and confidence, and lower your risk of chronic disease and early death – so you can be there for your friends and family when they need you the most. What do you have to lose?
FREE

1-Day Weight Loss Meal Plan For Men 40+
Lose weight. Eat like a man. Enjoy your life. Over 55,000 men are using this.
Get yourself back into great shape - at any age the Fit Father way.
Erin Coleman
Writer, The Fit Father Project
A 15-year freelance writing veteran, Erin is registered dietitian and health educator who is passionate about health, fitness and disease prevention. Her published work appears on hundreds of health and fitness websites, and she's working on publishing her first book! Erin is a wife and mom of two beautiful children.
If you're interested in a proven and completely laid out "done-for-you" weight loss meal plan & workout routine – designed for you as a busy man…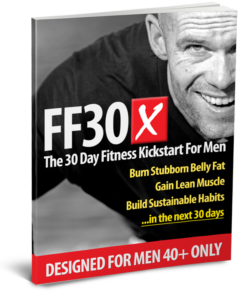 I'd recommend you read the program overview letter for our Fit Father 30-Day Program (FF30X).
Inside FF30X, you'll receive:
The simple & delicious Fit Father Meal Plan
The metabolism boosting Fit Father 30X Workout (under 90 min/week)
VIP email coaching where I'll personally walk you through the program
Read the FF30X Program overview letter here to see how our plan can help you lose weight – without the complication & restriction of normal diets.
*Please know that weight loss results & health changes/improvements vary from individual to individual; you may not achieve similar results. Always consult with your doctor before making health decisions. This is not medical advice – simply very well-researched info on the best way to burn fat for men.