Y
ou know the drill. One day you look in the mirror or at a photo and realize you're 30 pounds heavier than you were or want to be. It only takes one incident to make you react and start your weight loss journey. But did you know that
tracking progress
is essential if you want to reach your weight loss goals?
The truth is that tracking progress is essential in everything you do.
You've probably tracked your progress up your chosen career or through the property market. It's logical, practical, and extremely beneficial to utilize the same approach to losing weight.
What makes tracking fitness progress, losing weight, and getting fitter even easier is the support of the Fit Father Project. You can join the FF30X today to access all the support and advice you need to become a new man.
Check Your Weight Every Day
If you're looking to lose weight, then you need to weigh yourself. Some say weighing yourself too regularly can be detrimental to your motivation.
But, if you get into the habit of weighing yourself every morning, you'll soon notice the downward slide of the scales.
This has two positive results:
Accountability
Knowing that you'll be looking at the scales in the morning will make you think twice before reaching for that dessert or skipping your workout. Accountability is excellent at keeping you on the right track.
Motivation
If you're not feeling like working out or eating properly, then the thought of being accountable the next day will leave you feeling much more motivated to do the right thing.
It is also important to note that weighing yourself is not the only way to track your body.
You can also measure your waist, thighs, and arms to track changes. In addition, you'll find it beneficial to track your BMI on a regular basis.
There will be days when this is worse than the day before. But, you can use these days to motivate yourself forward. Tracking your fitness progress will help you to achieve your fitness goals by making you more aware.
Take Photos
Taking a photo of yourself on a regular basis can be very motivational. Wear as little clothing as possible and take the picture at the same time of day in the same position and with the same lighting.
Photos are one of the most accurate ways of showing body changes.
Taking a photo every two weeks or once a month should be sufficient for you to see the changes. Put them in a small album or their own folder so you can easily compare them.
Monitor Your Food Consumption
The Fit Father Project offers a variety of healthy eating plans and advice. This includes meals like the free 1-day meal plan and others using the perfect plate approach to food.
However, no matter how strong your motivation and will power, it can be easy to stray from your chosen path.
By recording when and what you eat as well as tracking your progress, you'll soon identify the problem areas and will be able to resolve the issues. This will help you to lose the weight.
Use a Performance Check
Another great way to track fitness progress is to monitor your workouts.
For example, if you run every day and have a set route, then time yourself. You should get faster day by day. There will always be the odd day when you're slower, but the overall trend should be positive.
Put together a performance check and test yourself on various fitness activities. Record the results and repeat the test once a month.
Alternatively, if you're lifting weights, then try to add a little extra each week. This is an indirect way to track fitness progress as you're pushing your body harder all the time, but it works!
There's an App for That
There is little sense in having all the modern technology available and not using any of it to help you reach your weight loss and fitness goals. In fact, there are hundreds of apps designed specifically for tracking fitness progress.
Here are some app suggestions:
FatSecret
fatsecret.com
Available on: Android, iOS 

This app helps you to track your diet. As mentioned above, this can motivate you to eat properly, avoid temptation, and see where you're going wrong or could improve.
Lose It
loseit.com
Available on: Android, iOS, Kindle, Nook, and Web
This is another calorie tracker to help you track fitness progress. You'll also benefit from access to accurate nutrition information for a wide range of foods.
Endomondo
endomondo.com
Available on: Android, BlackBerry, iOS, Windows Phone
Endomondo tracks outdoor activities like biking and running with good accuracy and a simple UX.
The app is free to download but also includes training plans and coaching features for Premium subscribers.
Wearable Technology
You can't look at ways to track fitness progress without mentioning the latest fad, wearable trackers. In fact, these are a great idea. You can measure your performance, how much you've worked out, calories burned, and even how good the quality of your sleep is.
Fitbit is often the first one that springs to mind, but there are plenty of other options to track fitness progress with wearable trackers.
The simple fact is that you'll be able to record your efforts and results easily. This will inspire and motivate you to keep going.
It is also important to use the sleep tracker built into any of the wearable trackers. Quality sleep is essential to the balancing of your body's hormones and successful weight loss.
Compete With Peers
If you're struggling to stick to a fitness regime or failing to track your progress properly, then start competing. You can challenge a friend to some one-on-one or enter a local race.
Every time you compete, you should be better than the time before. If you are, then your approach is succeeding. It may be an unusual way to track fitness progress, but it works, and it motivates and pushes you to do better every day!
Finish All Phases of FF30X
Our programs are designed to challenge men of all fitness levels. Years of research and trial and error have helped us optimize diet and exercise to get the maximum amount of results for the least amount of effort.
It's not always easy to stick to the schedule, that's why we're here to help. If you need encouragement and accountability to finish the fight, do not hesitate to use the tools and resources provided in the member's area. Reach out to one of our team members or the Fit Father Community. Your success is our mission.
If you're on schedule to finish the first two phases of FF30X, you may want to consider signing up for FF4L. You'll not only save money, but you'll gain access to our entire program library.
THE 30-Day Health Program for Men 40+
Fit Father 30X is the world's first sustainable weight loss plan for fathers.
Get yourself back into great shape - at any age the Fit Father way.
Your new friend & health coach,
Stuart Carter
Head Training Staff, The Fit Father Project
Brotherhood Nickname: "The Fit Brit"
Bragging Rights: 16 Years in the fitness industry, Author of 'The Easy Fitness Guide', Father of 4 boys and Husband to a Venezuelan beauty.
If you're interested in a proven and completely laid out "done-for-you" weight loss meal plan & workout routine – designed for you as a busy man…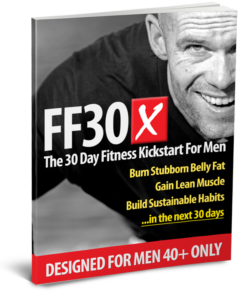 I'd recommend you read the program overview letter for our Fit Father 30-Day Program (FF30X).
Inside FF30X, you'll receive:
The simple & delicious Fit Father Meal Plan
The metabolism boosting Fit Father 30X Workout (under 90 min/week)
VIP email coaching where I'll personally walk you through the program
Read the FF30X Program overview letter here to see how our plan can help you lose weight – without the complication & restriction of normal diets.
*Please know that weight loss results & health changes/improvements vary from individual to individual; you may not achieve similar results. Always consult with your doctor before making health decisions. This is not medical advice – simply very well-researched info on tracking fitness progress.