I
f you've ever experienced
joint pain
while working out then you'll know just how painful and limiting it can be.
The problem is joint pain most often stems from not exercising, but it can be difficult to find the motivation to start exercising. Fortunately, motivation and weight loss is where the Fit Father approach can help!
The fact is that virtually everyone in their 40's and older suffers from some type of joint pain. It might be your knees, shoulders, back or even your elbows.
You have to be aware of it and how to exercise properly to beat it. This can help prevent bone deterioration as you age.
Understanding Joint Pain
There is a difference between muscle aches and joint pain.
This is when you feel sore the day after a workout. You may even have suffered a pulled or torn muscle after working out too hard.
This is painful, generally superficial and hurts when you move it. But when you warm the muscle up gently it should feel a little less painful.
This is a deeper pain which relates to the bones, cartilage and your ligaments. Age tends to weaken the cartilage in all your joints through repetitive use which encourages the cartilage to wear down; allowing bones to rub against each other.
Joint pain does not get better when you exercise or warm up the area.
It is essential to note that if you are suffering from joint pain you should see a professional for a diagnosis and treatment.
You are likely to find that joint pain and muscle pain often occur together. This is generally because the osteoarthritis in your joint places additional stress on the surrounding muscles.
How To Deal With Joint Pain
Joint pain does not mean you need to stop working out. You simply need to adopt the right approach and take some precautions:
Avoid exercise that hurts the specific joint.
This will irritate the joint and make it more painful. Choose a substitute exercise from the Fit Father library.
Natural anti-inflammatory
These should be used instead of over the counter medicines. Products like Advil can help in the short term. But in the long term they can cause health issues of their own.
Try using Turmeric which is well researched. Botswana (also known as Frankincense) is another excellent option or you can opt for ginger.
You probably already know that fish oil is a great anti-inflammatory and helps to lubricate your joints.
Baths may not generally be your chosen pass time but you'll find that a hot bath with Epson salts and frankincense oil is incredibly relaxing for your muscles and joints.
It can actually relieve joint and muscle pain!
One of the best ways to treat chronic low level inflammation is to switch between hot and cold.
The heat encourages nutrients into the joint area while the ice then contracts the area and removes the toxins.
Try doing 3 minutes of heat, followed by 3 minutes of cold and keep doing it for 15 minutes.
Anti-inflammatory are designed to reduce the pain in a given area. But you can also get supplements to help improve your joint strength and reduce the pain.
The main two you should consider adding to your diet are Glucose Sulfate and Collagen.
However, it is important to note that while research does show these supplements can be effective; they will only help a little.
They will not cure your joint pain.
Strengthening the muscles round your problem joint or joints will help to ensure that there is less pressure on the joint. This will reduce the joint pain and improve your mobility.
For example, if you have knee pain then undertaking exercises that target your quadriceps & hamstring. Strengthening them is essential to improve your ability to exercise as well as reducing the joint pain.
Remember do not do exercises that exacerbate the pain.
If your muscles are tight then they will be placing a strain on your joints. The easiest way to loosen your muscles and potentially alleviate some of the joint pain, is to massage the muscles in that area and use a foam roller.
You'll notice the difference.
Everything so far is designed to help you relieve your joint pain naturally and at home.
However, there is a time when you should seek professional assistance. In fact, there are a number of new medical treatments which you may find extremely beneficial when dealing with joint pain.
The most promising of these is Platelet Rich Plasma. Platelets are actually more than just a blood clotting agent. They also contain hundreds of proteins which are beneficial to your body's ability to heal itself.
Treatment involves draining blood from you and separating the platelets. They are then concentrated using centrifugation and put back into your body. This increases your platelet count and your ability to help injuries; including joint pain.
There are many new technologies that go beyond traditional pharmacology today. It might be a good idea to have a visit with your doctor, if only to discuss your available options.
Getting between 6 and 8 hours sleep every night is very important for your overall health.
However, you need to consider how you sleep. Any position that puts your joint in its maximum stretch or recoil position is going to put stress on the joint. This will result in joint pain.
Consider how you currently sleep and what aches the most in the morning. You can then start to adapt your sleeping position or support your joints with pillows.
Finally if you are carrying more weight than you should then you are placing extra strain on your joint; particularly your lower joints.
Losing weight will reduce the stress on your joints and help to get rid of your joint pain. We would like to invite you to join Fit Father for Life. Click the banner below to learn more.
The Bottom Line
Every one of these tips that you put into effect will help you to reduce your joint pain.
But you don't need to do it alone! The Fit Father Project is here to help you achieve your goals. You can join us today and discover the best exercises for your joint pain and speak with other men who've dropped 100 pounds and virtually eliminated the joint pain.
The solution is in your hands; all you have to do is grab it!
Your new friend & health coach,
Stuart Carter
Head Training Staff, The Fit Father Project
Brotherhood Nickname: "The Fit Brit"
Bragging Rights: 16 Years in the fitness industry, Author of 'The Easy Fitness Guide', Father of 4 boys and Husband to a Venezuelan beauty.
If you're interested in a proven and completely laid out "done-for-you" weight loss meal plan & workout routine – designed for you as a busy man…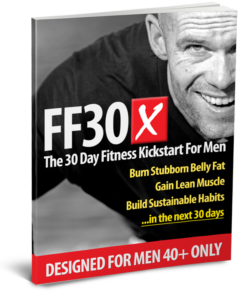 I'd recommend you read the program overview letter for our Fit Father 30-Day Program (FF30X). Inside FF30X, you'll receive:
The simple & delicious Fit Father Meal Plan
The metabolism boosting Fit Father 30X Workout (under 90 min/week)
VIP email coaching where I'll personally walk you through the program
Read the FF30X Program overview letter here to see how our plan can help you lose weight – without the complication & restriction of normal diets.
*Please know that weight loss results & health changes/improvements vary from individual to individual; you may not achieve similar results. Always consult with your doctor before making health decisions. This is not medical advice – simply very well-researched info on conditioning workouts.