O
nce you start losing weight you'll begin to realize just how much you are capable of. Your slimmer physique and increased energy will probably leave you wondering what the
best muscle building foods
are.
After all, while exercise is essential for improving your fitness, it's your eating habits that enable you to lose weight and build muscle.
You can't rely solely on food to build your muscles but these muscle building foods will help you to achieve your goals:
The Most Common Muscle Building Foods
Building muscles takes protein. This is essential to the process of protein synthesis which occurs inside your body. This process repairs your muscles and helps them to grow bigger and stronger. Obviously it's important for muscle building foods to have high protein content.
But it takes more than just protein! These are the foods you've probably heard of before; but now you know you've got to start adding them to your diet!
Beef
Lean beef is extremely high in protein, zinc, iron and an array of B vitamins. These are all important for adding muscle.
But, it is worth noting that lean beef is also high in calories; you need to be doing the workouts to get the most from these calories.
They should also be eaten in moderation as they are high in saturated fat.
Brown Rice
This is not full of protein for muscles but is a slow digesting carbohydrate. This will keep your energy levels sustained throughout the day without needing to reach for sugary snacks; even when working out.
Oranges
These are full of natural sugar. Eat one or two before a workout to give you a natural energy burst. IT will improve your focus and lifting power; boosting your muscle growth.
Eggs
You probably already know that egg whites are great for protein, the essential muscle building ingredient.
But don't just eat the white. The yellow contains cholesterol which is essential to the production of testosterone and muscle growth in your body! Eat the whole thing!
Cottage Cheese
Cottage cheese is high in casein protein. This is slow digesting, feeding your muscles overnight while your body fasts. It makes a great pre-bed snack especially after a workout as it helps your muscles to heal and grow.
Milk
Did you know that milk is rich in whey and casein protein? It also contains omega-3 fatty acids and glutamine.
The whey protein will give your muscles a quick boost of energy and healing while the casein will offer a slower release; aiding healing and muscle building.
Spinach
Glutamine which is found in milk is an amino acid linked with the production of growth hormone in your body. You need growth hormone to build muscle.
Spinach is also a rich source of glutamine; promoting muscle growth although it may not be as instant as for Popeye!
Chicken
Chicken, like beef, is an excellent source of protein. If you avoid the fat you'll find that you're getting protein for muscle growth and very little saturated fats or trans fats.
This is better than beef but beef, in moderation can help you to keep a mixed and varied diet.
Fish
Fish is generally high in fat which is something you tend to avoid when looking to build lean muscle. However, if you opt for Salmon, tuna or sardines you'll be getting a massive omega-3 boost and some valuable protein.
This will help muscle growth and joint function.
Beans
You can't mention muscle building foods and leave the humble bean or legume out! They are known to be packed full of protein and fiber.
Protein helps muscle development while the fiber slows food absorption, helps to regulate insulin response and improves normal bowel function.
Kidney beans are a particularly good choice!
Muscle Building Foods That You May Not Have Heard Of
There are many different products which can help you build muscle despite the fact that you may think they have no immediate benefit:
Cantaloupe
Fruit is generally considered bad for muscle building as it contains a large amount of sugar. However, the cantaloupe melon is low in fructose and actually classes as a fast digesting carb.
It's perfect after a workout or a long fast to get your body going again.
Beets
Beets have been shown to improve levels of nitric oxide in your body. This allows minerals and oxygen to get round your body faster, improving your strength and capabilities when exercising.
It also helps to keep your liver and joints healthy.
Apples
A recent study showed that apples contain ursolic acid which can prevent muscle atrophy. It can also help to increase your muscle tissue and reduce your fat levels.
Apples may not be the first thing you think of when building muscle but you need to add them to your diet.
Quinoa
There are approximately 8 grams of protein in every cup of quinoa. Alongside this you'll find lysine; an amino acid which helps to repair and build your muscles.
The fact that it is digested slowly by your body also helps to prevent an insulin surge and gives you energy all day.
Greek Yoghurt
Greek yoghurt is effectively a variant of milk. This means it is packed full of whey and casein protein.
What you may be surprised to learn is that Greek yogurt has more protein and less carbs than regular yoghurts. It's the perfect treat!
Ezekiel Bread
You may not have heard of this organic bread. It is made using whole grains which have sprouted. This means that it is nearly all protein; a muscle builder's best friend.
In fact, it is one of the best muscle building foods as it contains all 9 of the amino acids your body needs for muscle growth. That's nine amino acids your body can't produce itself.
Wheat Germ
This can be called the best grain for anyone to eat. It is high in protein, zinc, iron, potassium and selenium.
It is also a slow digesting food; allowing its low fat goodness to be released slowly into your body.
Water
One substance that is frequently overlooked is water. Your body can be as much as 70% water. To build muscles and create healthy cells you need to be drinking plenty of water every day.
Many bodybuilders drink as much as 10 liters a day. It does more than support your muscle growth; water can actually keep your muscles fuller looking!
Muscling It All Together
Eating right is an essential part of losing fat and building muscle. But this is not something you should be doing alone. You already know that the Fit Father's are here to help guide and support you.
Now it's time to take it one step further. Join the Fit Father's For Life and gain access to all the information you need to create your perfect body.
The Fit Father Project is full of men like you; determined to lose weight, build muscle and get into the best shape of their lives. Join our FF4L program today and let us help you become the man you know you can be!
Your new friend & health coach,
Stuart Carter
Head Training Staff, The Fit Father Project
Brotherhood Nickname: "The Fit Brit"
Bragging Rights: 16 Years in the fitness industry, Author of 'The Easy Fitness Guide', Father of 4 boys and Husband to a Venezuelan beauty.
If you're interested in a proven and completely laid out "done-for-you" weight loss meal plan & workout routine – designed for you as a busy man…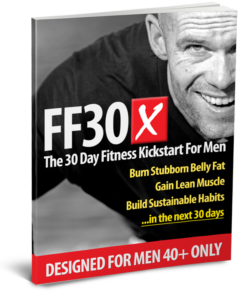 I'd recommend you read the program overview letter for our Fit Father 30-Day Program (FF30X). Inside FF30X, you'll receive:
The simple & delicious Fit Father Meal Plan
The metabolism boosting Fit Father 30X Workout (under 90 min/week)
VIP email coaching where I'll personally walk you through the program
Read the FF30X Program overview letter here to see how our plan can help you lose weight – without the complication & restriction of normal diets.
*Please know that weight loss results & health changes/improvements vary from individual to individual; you may not achieve similar results. Always consult with your doctor before making health decisions. This is not medical advice – simply very well-researched info on conditioning workouts.