F
it Father Cliff joined the Brotherhood in the summer of 2019 weighing 242lbs. His weight loss journey, like most Members, began after a visit to the Doctors office.
"After my last physical I received terrible results," recalls Cliff.
"I was diagnosed with Stage 2 hypertension and pre-diabetic levels of cholesterol."
The results from Cliff's annual physical were a wakeup call, but they weren't the final straw.
"I could no longer participate in healthy outdoor activities because of my health," says Cliff.
"I couldn't play with my three children due to my excess weight and fitness level."
Cliff was tired of being fat and tired, yet his children were the true motivation to make a healthy change.
Fit Father 30X
Weighing 242lbs, Cliff was looking for more than an exercise DVD, restrictive diet, or quick-fix solution (where the results wouldn't last).
He wanted a program that was simple, easy to follow, and sustainable.
Fit Father 30X is the first weight loss program designed exclusively for busy men in their 40s, 50s and 60s. The online program includes simple meal plans, time-efficient workouts, daily accountability, and instant access to the private Members-Only group.
"I wanted a weight loss program that I could use to build a lifetime action plan for optimal health," explains Cliff.
"I wanted a plan that would help me achieve my goals and then maintain them in the long-term. After reading over the Fit Father website I was confident I had found my solution. I joined the Brotherhood and started Fit Father 30X in June of 2019."
6lbs Lost in 1 Week
In his first seven days of following Fit Father 30X, Cliff lost 6.4lbs.
The weight loss journey varies for each Fit Father, but most Members can expect a loss of 5-25lbs in their first month.
"With Fit Father 30X I have a comprehensive plan that I can tailor to my specific lifestyle," states Cliff.
"With the daily accountability you are never left guessing."
"Inside our FFP Membership site, we have access to tons of resources, like how to work out while traveling, injury prevention, exercise modifications, and on-the-go nutrition tips. But most importantly this program is doable and sustainable for older guys, like me."
Non-Scale Victories
Fit Fathers experience countless Non-Scale Victories throughout their weight loss journey. Non-Scale Victories, or NSVs, are the things that show forward progress without a scale.
Common NSVs amongst Fit Fathers are losing inches off their waist, sleeping better, increased energy, and feeling more comfortable in their clothing.
"I have so much energy now," states Cliff.
"I can mountain bike and go hiking with my kids for several miles, even if I have to carry my youngest in my backpack. I sleep better and my waist has gone from 42.5 inches to 36 inches. I am in great shape, both strength and condition-wise now."
The Fit Family
When you start Fit Father 30X, you receive instant access to the private Members-Only group.
"The group is awesome," says Cliff.
"It's incredibly helpful to connect with other guys who are on the same weight loss journey, following the same program."
"The positive attitude and encouraging words from my Fit Father Brotherhood have kept my spirits high even when the scale was being stubborn."
The Members-Only group allows men all around the world to connect throughout their weight loss journey.
Members can share their successes, ask questions, make friends, and receive the necessary support to reach their goals.
Accountability Makes the Difference
"The Fit Father programs are a true lifetime fitness and health plan," explains Cliff.
"The program doesn't ignore you on day 31, 91, or even on day 200. The programs are progressive. Each Phase gradually progresses in sync with your fitness level and results at that time.
The program Phases provide me with enough time, knowledge, and resources to put the entire Fit Father system into practice."
"I've made this my new healthy lifestyle."
Other weight loss programs fall short because they do not provide the necessary accountability for success.
Fit Father 30X includes daily accountability emails for each Member to ensure they are consistently moving toward their goals.
Fit Father Road Map
Fit Father Project has helped tens of thousands of men over 40 around the globe get and stay healthy.
The Fit Father 30X program and its subsequent phases are a step-by-step plan that teaches men how to lose weight and keep it off for good.
After Fit Father Members hit their goal weight and body fat percentage, they often transition to the muscle building programs.
Old School Muscle is the proven muscle building program for men over 40. OSM combines time-tested 'old school' strength training principles with cutting edge science to produce fast results.
Fit Father Cliff completed FF30X Phases 1-3, as well as Old School Muscle.
"The results I have gotten from the Fit Father programs have far exceeded my expectations," says Cliff.
"I am still on my health journey, but I can successfully say I've made the Fit Father programs part of my lifestyle now. I am a Fit Father."
Summary: 4 Lessons to Learn from Cliff's Success
Lesson #1: It's never too late to start your weight loss transformation.
Fit Father Cliff received unpleasant results after an annual Doctors visit. Cliff could have accepted those results as permanent, but instead, he started Fit Father 30X.
And with the proven plan he lost weight, gained muscle and got his health back.
Lesson #2: With the right plan you can see fast results.
Fit Father Cliff lost 6lbs in 7 days. He then met his 30-day goal, five days early! FF30X is the proven plan for busy men over 40. The sooner you start the program, the sooner you will see results.
Lesson #3: Knowledge is power.
Inside your Fit Father Membership site, you will have access to a variety of resources like healthy eating on the road, enjoying alcohol and staying lean, breaking bad habits, and the best supplements that men over 40 should take.
Here at the Fit Father Project, our goal is to educate, empower and guide men to live a well-rounded healthy lifestyle in their second half of life.
Lesson #4: As a Fit Father Member you are part of a Brotherhood.
You are a Member of a Global Community of like-minded men who are actively making changes to improve their health for themselves and their families.
As a Fit Father, you are never alone in your weight loss journey. Through every step you are encouraged, supported, and held accountable.
Join the Fit Father Brotherhood today.
I look forward to seeing your progress results, just like Cliff's!
Here's How Busy Fathers Over 40 Are Finally Burning Stubborn Belly Fat & Getting Healthy Without Restrictive Diets or Time-Consuming Workouts
This proven "Fit Father Program" has helped 38,000 busy men 40+ lose weight, rebuild muscle, and finally keep the weight off.
If you're frustrated with stubborn belly fat, failed diets, and time-consuming workouts, this is the answer you've been looking for…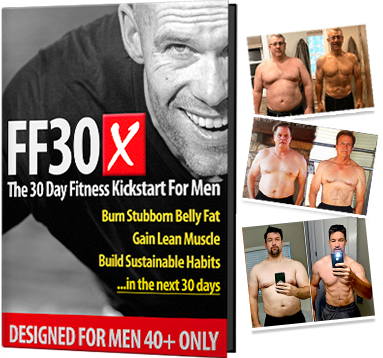 Join
38,000
guys in over
108
countries that are using FF30X to lose weight. You get everything you need to succeed – including:
The Fit Father Meal Plan – with simple & delicious recipes
Safe & Effective Workouts Program – only 90 min/week
VIP Accountability Coaching – our Fit Father Team will personally walk you to success, step-by-step.
LEARN MORE ABOUT FF30X >>
See the FF30X Program overview here. You'll discover how this proven Fit Father Program can help you lose weight and actually keep it off – without the complication and restriction of normal diets. »
*Please know that weight loss results & health changes/improvements vary from individual to individual; you may not achieve similar results. Always consult with your doctor before making health decisions. This is not medical advice – simply very well-researched info on Cliff's Dad bod transformation.