Don't say it, show it. This is why we've compiled some of our favorite Fit Father Project reviews to show you what we're REALLY about.
Thousands of busy dads have crushed their fitness goals — despite previous failures, health issues, lack of motivation, hectic schedules, multiple commitments … you name it.
And they love to tell us about their successes!
Check out the Fit Father Project reviews below to find out why FFP members are so happy with the program and leave exceptional feedback!
Lee and Amy Lost Combined 200 Pounds!
Lee and Amy lost a combined total of 200 pounds! Lee weighed in at 300 pounds and Amy weighed 232 pounds.
They lived an unhealthy lifestyle and were distracted with work and raising their two children.
After 1-1/2 years of following the Fit Father/Mother Project programs, Lee now weighs 188 pounds and runs marathons!
Here's what Lee has to say about his FFP experience:
"I was on a downward spiral and I was frustrated. I used to be in the Army. I used to do 10-mile runs and 100-mile bike rides."
"In the first month of following the Fit Father 30X program, I lost 20 pounds. I feel great and I've completely changed my relationship with food. This program is amazing. I have learned a tremendous amount of information on nutrition, supplements, and exercise."
"The program includes different meal timing options and workout schedules, so I can select a path that will work for my busy schedule."
"The Fit Father 30X program is the missing piece for working dads with careers, kids, and busy schedules. This program makes it easy to lose weight."
"I upgraded to the lifetime access of the Fit Father Project because of the accountability, the structure, and the continuous support. I'm part of a community of men on the same journey to be the best man, father, and husband possible. I am honored to be in the Fit Father Brotherhood."
Click the image below to read Lee and Amy's story!
Christopher Lost 39 Pounds in 4 Months!
Christopher is 51 years old, a police officer, and served in the United States Army Infantry.
After a vehicle accident and a double hip replacement, Christopher lost his ability and desire to exercise regularly.
After committing to the Fit Father Project, he started Fit Father 30X (FF30X) for weight loss.
Christopher had this to say about his FFP program:
"I have rediscovered my six-pack abs. I never thought I would see them again! On top of losing almost 40 pounds, I have so much energy now. My self-confidence is back. All I did was follow the program and I got great results."
"I dropped from a 38-inch waist to a 32. I got to go out and buy new clothes. I'm no longer embarrassed to take off my shirt in public. I actually look forward to my Fit Father workouts and preparing my meals for the week.""Everyone has noticed my weight loss transformation, which is very motivating. I never thought I could see weight loss results so quickly. I'm dedicated to this program and my results are amazing!"
"I am a living breathing testament to the success they produce. I wear my Fit Father t-shirts and hoodies very proudly. I love telling people about the Fit Father Project."
Click the image below to read Christopher's story!
Cliff Lost 6.4 Pounds in 7 Days!
Cliff once weighed in at 242 pounds. After a physical with his doctor, he was diagnosed with high blood pressure and high cholesterol.
Cliff couldn't participate in healthy outside activities or play with his three children because of his excess body weight and lack of energy. His children were his motivation to make a change.
Cliff joined Fit Father Project 30X (FF30X) weight loss program for busy dads. It consists of simple meal plans, fat-burning and muscle-building workouts, and access to members-only FFP groups.
In his first week, Cliff lost more than 6 pounds! He provided the following Fit Father Project review:
"With Fit Father 30X I have a comprehensive plan that I can tailor to my specific lifestyle. With the daily accountability, you are never left guessing."
"Inside our FFP membership site, we have access to tons of resources, like how to work out while traveling, injury prevention, exercise modifications, and on-the-go nutrition tips. But most importantly, this program is doable and sustainable for older guys, like me."
"Fit Father programs are a true lifetime fitness and health plan. The program phases provide me with enough time, knowledge, and resources to put the entire Fit Father system into practice. I've made this my new healthy lifestyle."
"The group is awesome. It's incredibly helpful to connect with other guys who are on the same weight loss journey, following the same program. The positive attitude and encouraging words from my Fit Father Brotherhood have kept my spirits high even when the scale was being stubborn."
Click the image below to read Cliff's story!
Brian Lost 109 Pounds in 9 Months!
Brian lost a massive 109 pounds in just 9 months!
He went from being obese to being in the best shape he's been in during the past 20 years with the Fit Father Project.
Brian started out at 362 pounds and ended up weighing in at 253 pounds.
After an active sports career in high school, Brian began to put on weight.
He reached his highest weight at 362 pounds. With the help of the Fit Father Project team, he lost 15 pounds in just 30 days.
At the end of 90 days, Brian was down 50 pounds!
Now that he weighs 253 pounds, Brian has lower blood pressure, lower cholesterol and triglycerides, and lower blood sugar levels.
He no longer has to take blood pressure-lowering medications.
Click the image below to read Brian's story!
Craig Lost 109 Pounds in 6 Months!
Fit Father Project member Craig lost an impressive 109 pounds in just six months after participating in the Fit Father Project 30X (FF30X) program.
His starting weight was 306 pounds and he went from a self-proclaimed couch potato to running in 5 km races!
Craig used to skip breakfast and eat whatever he wanted for lunch and dinner. He would snack on ice cream, cookies, chips, and other junk foods, and drink regular sodas instead of water. Craig used to avoid exercise entirely.
After joining the Fit Father Project program, Craig regained his life. He began with a FFP free 1-day meal plan.
In his first three months of being an FFP member, Craig lost 50 pounds! He lost 70 pounds in less than 5 months and offered the following Fit Father Project reviews:
"I did have expectations that I would see results and that would spur me on. I was never expecting 100 pounds in less than 6 months! I know this is not temporary. I've never called this a diet… this is a lifestyle. The changes to my body and my fitness level are simply amazing."
Click the image below to read Craig's story!
Christopher Lost 71 Pounds in 8 Months!
Christopher joined the Fit Father Project at 45 years old, weighing in at 252 pounds and with readiness for change. He struggled with high blood pressure, low back pain, and depression.
After finding the Fit Father Project, Christopher was able to drop 71 pounds in just 8 months and over 14 inches from his waist!
Christopher provided the following Fit Father Project reviews:
"I found the Fit Father Project and felt it was a sustainable way to get healthy without extreme workouts. I joined Fit Father 30X not only for myself but for my wife and sons."
"I am a different person since joining the FFP brotherhood. All the health problems I had before have been eliminated. I have a new lifestyle now and I am proud to be a Fit Father."
"The Fit Father meal plan is easy to follow. I can incorporate healthy principles into every meal I have with my family. Even when I go out to eat or travel, I can always find options that fit in the Fit Father guidelines."
"I love the variety of the workouts. Inside our Membership site and included in our accountability emails we get tutorial videos that explain proper form and helpful tips to avoid injury. The videos serve well to supplement the Fit Father literature. As an educator, I appreciate understanding the theory behind the application."
"I've had countless non-scale victories since starting FF30X. Recently I went to the doctor's office and when the nurse took my blood pressure, she remarked that I had the blood pressure of a teenager! For someone who had been diagnosed with hypertension, that was amazing to hear."
"Through the Fit Father programs, I have learned that living healthy isn't about perfection. It's about consistency. I will forever be grateful that I came across the Fit Father Project because it changed my life. I hope my success story can help other men do the same!"
Click the image below to read Christopher's story!
Additional Fit Project Project Reviews
In addition to the successful case studies above, numerous highly satisfied FFP members gave the following rave reviews:
Dane
"Today is day 250 of the FFP. I never thought this kind of transformation was even remotely possible. I knew I could lose some weight, but there was no way I'd ever imagined turning my body and health so far around at age 55."
Carlos
"I started at 277 pounds, 13 prescriptions, and very unhealthy. With the FFP, I changed my lifestyle, eat healthy and clean, exercise, and feel good. I weigh 239 pounds (38 pounds lost) and am down to only three prescriptions."
Lee
"I had lost focus on my nutrition, health, and fitness for years. I decided to make a change and found
FF30X
. Today I am over 110 pounds lighter, stronger, and determined to make the most of the second half of life!"
Here's A Free Weight Loss Meal Plan For Busy Men 40+
Discover exactly what to eat for breakfast, lunch, and dinner to lose belly fat & feel energized 24/7 without hard dieting...
Keith
"I began FFP in late January 2019 and dropped 45 pounds by July, taking my weight from 225 to 180 pounds. I'm very thankful for FFP and the support of you guys out there!"
Dan
"After 10 months, I'm getting close to my 170-pound goal. I'm down from 240 at the start. I recently turned 61, but feel like I'm 30 again!"
Gerald
"Since joining FF30X, I am down from 214 to 189. What amazes me is this is actually the best I've ever looked in my life. I also got a positive report from the heart doctor, as my test results were good for another year!"
David
"Seven months ago to the day I made the decision to change my lifestyle and commit to becoming a healthier me. The goal was to lose 50 pounds by the time I turned 50. Not only did I hit that mark but lost an additional 20 pounds!
Here's A Free 24-Min Fat Burn Workout For Busy Men 40+
This powerful workout will reignite your metabolism to burn fat 24/7 like you did in your 20s…
If all these Fit Father Project reviews have you ready to get started, try out the Fit Father Project for yourself and sign up for a free 1-day meal plan and workout!
Also, many of our Fit Fathers get in shape with their spouses, who choose the Fit Mother Project to reach their health and fitness goals. That's why we created the Fit Family Bundle!
Here's How Busy Fathers Over 40 Are Finally Burning Stubborn Belly Fat & Getting Healthy Without Restrictive Diets or Time-Consuming Workouts
This proven "Fit Father Program" has helped 38,000 busy men 40+ lose weight, rebuild muscle, and finally keep the weight off.
If you're frustrated with stubborn belly fat, failed diets, and time-consuming workouts, this is the answer you've been looking for…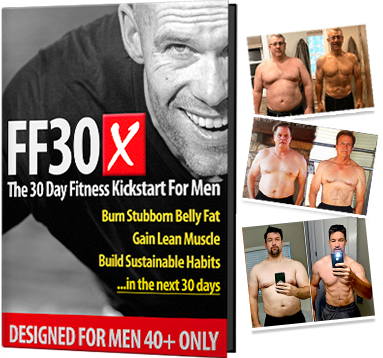 Join 38,000 guys in over 108 countries that are using FF30X to lose weight. You get everything you need to succeed – including:
The Fit Father Meal Plan – with simple & delicious recipes
Safe & Effective Workouts Program – only 90 min/week
VIP Accountability Coaching – our Fit Father Team will personally walk you to success, step-by-step.
LEARN MORE ABOUT FF30X >>
See the FF30X Program overview here. You'll discover how this proven Fit Father Program can help you lose weight and actually keep it off – without the complication and restriction of normal diets. »
*Please know that weight loss results & health changes/improvements vary from individual to individual; you may not achieve similar results. Always consult with your doctor before making health decisions. This is not medical advice – simply very well-researched info on Fit Father Project reviews.