Taking supplements to boost your diet and exercise? You may be wondering if there are any dangers to mixing supplements.
Maintaining a high level of health involves a combination of top-quality nutrition and consistent exercise.
As a busy dad, it can be hard to get all of the macro and micronutrients you need on a daily basis without the help of vitamins and supplements.
And while whole foods are always the best way to get your nutrition, it can be helpful to supplement your diet from time to time.
Dietary supplements are widely used and include vitamins, minerals, and other substances such as herbals, amino acids, and enzymes.
There is a growing use of supplements in adults, with about 70% taking at least one type of dietary supplement in the last 30 days.
But what about multiple supplements? Can you take mixing supplements too far? Keep reading to find out!
Whether you're looking to lose weight or just feel more energetic and youthful, here are 6 of the best supplements for men over 40.
Mixing Supplements
A lot of guys take multivitamins and performance supplements daily and at times when there is no time to grab a full meal.
This can be a great option on a busy day!
But it gets more complicated if you take a number of different vitamins and supplements.
Mixing supplements can lead to a dangerously high intake of certain vitamins and minerals.
Plus, supplements can also interact with prescription medications.
These interactions can lead to medications either not working adequately or causing adverse reactions.
With all of the products on the market today, it's hard to keep track of what you can take together, and what combinations should be avoided.
While this guide isn't all-inclusive, here is a breakdown of what you should look for when mixing supplements.
Keep in mind that you should always discuss dietary supplements and over-the-counter medications with your physician before you start taking them.
This is especially true if you're on prescription medications.
Fat-Soluble vs. Water-Soluble Vitamins
We all know that vitamins are important for our overall health and to keep our immune systems strong.
But it is true that you can have too much of a good thing.
The biggest issue that comes with mixing your supplements is that it's easy to go over the daily suggested intake of one or more of the vitamins or minerals that are included in these products.
The easiest vitamins to overdose on are the fat-soluble vitamins, which are vitamins A, D, E, and K.
Since they are fat-soluble, these build up in the fat stores in the body.
This can cause health problems with high intakes over a prolonged period of time.
High intake of vitamin A, for example, can cause joint pain, nausea, dizziness, and headaches.
Excessive quantities of vitamin D can cause many of the same symptoms, as well as weakness, constipation, and weight loss.
Vitamin E, also fat-soluble, is less dangerous but it can lead to excessive bleeding.
The Natural Testosterone Booster Guys 40+ Are Using For More Energy, Drive, & Results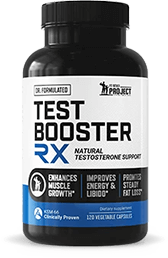 After age 30, your Testosterone levels start declining. Add in some stress and a "less than perfect" diet… everything gets worse fast. You feel tired all the time. It's hard to lose fat. It feels like you lost your edge. That's the sad story that happens to most guys 40+. But now, it doesn't have to be that way for you….
Water-Soluble Vitamins
It is harder to overdose on water-soluble vitamins because excess amounts will be excreted in your urine if you take too much.
However, that does not mean that consuming high quantities of water-soluble vitamins doesn't come without risks.
For example, a high intake of Vitamin C can cause kidney stones, nausea, diarrhea, and stomach cramps.
Vitamin B-6 in excessive quantities can lead to nerve damage and extreme sensitivity to sunlight.
Certain minerals can also cause adverse side effects if taken in excessive quantities.
For example, many people take calcium and vitamin D supplements for bone health.
However, a high intake of calcium can be exacerbated by overconsumption of vitamin D.
This can cause confusion, abnormal heart rhythms, and even kidney failure.
To avoid overdosing on vitamins and minerals, always read the nutrition label to know exactly how much of each substance you are consuming per serving.
This is even more important if you are mixing supplements.
You may not even realize what is included in certain supplements until you read the labels.
There are a lot of supplements that include a combination of vitamins and minerals.
So if you are taking a daily multivitamin along with a pill labeled as an "immune enhancer" that contains high amounts of vitamin D, you may be exceeding your intake of this vitamin without even realizing it.
Medication Interaction with Supplements
Supplements can interact with your prescription medications and either decrease their efficacy or cause too much of the medication to build up in your body.
This occurs due to supplements changing the absorption, excretion, or metabolism of prescription medications.
Studies estimate that 20-25% of adults concurrently use a dietary supplement while taking prescription medication.
A study from JAMA found that the use of prescription medications and dietary supplements has increased since 2005, with 15% of older adults potentially at risk for a major drug-drug interaction.
There are a number of interactions between dietary supplements and medicines, which is why you always need to tell your doctor if you plan on taking anything over the counter.
Some of the most common interactions include:
Vitamin E/Fish Oil/Ginkgo Biloba
Warfarin is a blood thinner that people take to prevent blood from clotting.
Supplements that thin the blood further, like fish oil, vitamin E, and Ginkgo Biloba (as noted above) can lead to internal bleeding anywhere in the body, including the brain, when taken with warfarin.
St. John's Wort
St. John's Wort causes decreased efficacy of up to 70% of prescription medications.
This includes antidepressants, cholesterol-lowering drugs, some HIV drugs, heart and blood pressure medications, and blood thinners like Warfarin.
This supplement can also decrease levels of some immunosuppressants used for people that have had transplants.
If this happens, transplant rejection can occur leading to serious health effects.
This is not an all-inclusive list, so if you are taking St. John's Wort be sure to discuss this with your physician so you can go over all possible medication effects.
The Immune Booster Guys 40+ Are Using To Kill Viruses & Feel Younger…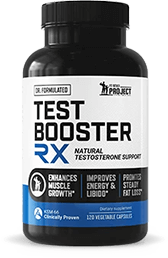 As men age, our immune systems get weaker.
It's a fact. After 40, you become more vulnerable to viruses, cancers, and even Alzheimer's disease. Average guys just let this all happen. But now, with Immune Booster RX, you can take the power back.
Goldenseal
Goldenseal has been shown to inhibit several metabolic enzymes that are responsible for the metabolism of more than half of currently used prescription medications.
Because of this wide range of potential interactions, this supplement should be avoided if you are taking prescription medications.
Medications with Narrow Therapeutic Range
Certain prescription medications require a very specific level to work correctly.
This is why doctors will check labs very frequently to monitor these levels.
The most common medications in this category include levothyroxine (used for hypothyroidism), cyclosporine (used to prevent transplant rejection), phenytoin (used to prevent seizures), warfarin, and digoxin (a heart medication).
If you are on a medication that requires frequent lab monitoring, there is a higher potential for supplement interaction.
Even if a supplement seems safe, be sure to discuss any possible adverse effects with your doctor before taking it.
The FDA's Role in Supplement Regulation
It's also important to keep in mind that although the FDA has oversight over dietary supplements, it is the supplement manufacturers that are responsible for making sure their products are safe.
Supplement companies are responsible for producing evidence that their products are safe.
They also need to ensure that product labels are truthful and not misleading.
Manufacturers are required to ensure that they don't contain contaminants or impurities, and label them accurately.
However, rules surrounding dietary supplements are still less strict than those for prescription or over-the-counter drugs.
Meet SuperFuel. The Delicious Protein Shake Packed With 40+ Energy-Boosting Vitamins & Superfoods (Designed For Busy Men)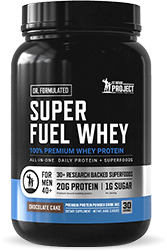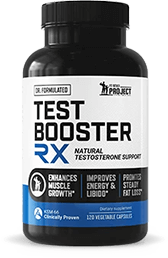 As a busy guy, it's challenging to stay consistent with healthy eating. That's why we created SuperFuel… the delicious "all-in-one" nutrition shake for busy guys 40+ to give your body the protein + key nutrients you need for more energy, fat burning, and muscle building.
Stay Safe and Healthy with Vitamins and Supplements
While supplements and vitamins are a convenient way to consume an adequate amount of vital nutrients, they are no substitute for a healthy diet.
If you decide to add supplements to your daily regimen, be sure to read the labels to know exactly what vitamins and minerals you are consuming and in what amounts.
You can compare that to your recommended intake for your age and gender so you can be sure to stay within the recommended ranges.
In addition to avoiding excessive intake of nutrients when mixing supplements, you also want to look out for potential medication and supplement interactions.
If you are ever unsure if a supplement is unsafe you should discuss this with your physician.
And you should always bring a list of all supplements you are taking to your doctor's appointments to review any possible adverse interactions.
Many people take supplements to ensure an adequate intake of essential nutrients.
This can be convenient when you don't have time to grab a full meal.
However, dietary supplements should not be used as a substitute for eating a variety of foods that makes up a healthy diet!
Here's How Busy Fathers Over 40 Are Finally Burning Stubborn Belly Fat & Getting Healthy Without Restrictive Diets or Time-Consuming Workouts
This proven "Fit Father Program" has helped 38,000 busy men 40+ lose weight, rebuild muscle, and finally keep the weight off.
If you're frustrated with stubborn belly fat, failed diets, and time-consuming workouts, this is the answer you've been looking for…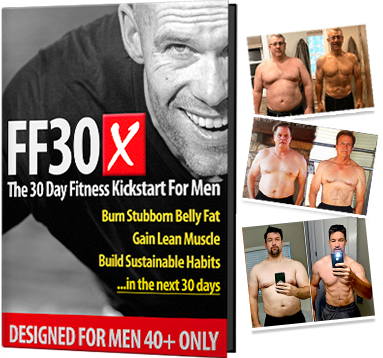 Join 38,000 guys in over 108 countries that are using FF30X to lose weight. You get everything you need to succeed – including:
The Fit Father Meal Plan – with simple & delicious recipes
Safe & Effective Workouts Program – only 90 min/week
VIP Accountability Coaching – our Fit Father Team will personally walk you to success, step-by-step.
LEARN MORE ABOUT FF30X >>
See the FF30X Program overview here. You'll discover how this proven Fit Father Program can help you lose weight and actually keep it off – without the complication and restriction of normal diets. »
*Please know that weight loss results & health changes/improvements vary from individual to individual; you may not achieve similar results. Always consult with your doctor before making health decisions. This is not medical advice – simply very well-researched info on mixing supplements.