Want to be strong at 60 (or any age for that matter)? Here's how Fit Father Doug lost 34 lbs and changed his life.
Doug joined the Brotherhood in November of 2018. Back then he was 229 lbs, with 26% body fat and low energy levels.
"I started looking for a program with the goal to lose weight, gain strength and improve my range of motion," explains Doug. "I knew I was overweight and unhealthy. It was time for me to change my lifestyle."
Doug stumbled upon the Fit Father Project website when searching for weight loss programs specifically for older men.
Keep reading to learn how Doug lost weight and became strong at 60!
The Proven Program for Men 40+
The Fit Father programs are designed exclusively for busy men in their 40s, 50s, and 60s.
The programs are crafted to be simple, sustainable, and time-efficient.
"The Fit Father 30X program is great," states Doug. "I can't believe the changes in my body. My energy levels are like they were 20 years ago."
Doug started his weight loss journey with Fit Father 30X.
FF30X is the proven weight loss program for men over 40.
The step-by-step online program includes simple and delicious meal plans, time-efficient workouts (that can be done at home), daily accountability, and access to the private Members-Only group.
Lots of men are getting strong at 60 like Doug, come join them!
28 lbs Lost in 3 Months
Fit Father Members can expect to lose 5-20 lbs within their first month of following the Fit Father 30X program.
"I'm the fittest I have been since I played rugby in high school," smiles Doug. "I wish I would have started the Fit Father program 10 years ago!"
Workouts and Meal Plans Made for You
The truth is, as a man over 40 you cannot workout the same way you did when you were in your 20s.
As a man with aging joints, prior injuries, and a busy schedule, you need a workout routine that is designed to meet your needs.
That's why the workouts inside FF30X only require a pair of dumbbells and five feet of floor space.
"The Fit Father workouts are challenging but doable," says Doug. "They are designed to speed up your metabolism. In conjunction with the very practical Fit Father meal plan, it's easy to shed weight quickly on this program."
The Fit Father meal plan is easy to follow.
As a Member, you get to pick your own meal timing setup, your favorite recipes and your favorite go-to foods.
The meal plan can be adjusted to match your preferences.
You won't spend hours slaving away in the kitchen and you can still eat the foods you love!
Non-Scale Victories for the Win
In the Fit Father Brotherhood, members celebrate dropping numbers on the scale and Non-Scale Victories (NSVs).
NSVs are the moments and experiences in the weight loss journey that show forward progress without a scale.
Members can expect NSVs like sleeping better, decreased medication intake, increased energy, more ease in daily activities, clothes fitting better, etc.
"My waist size went from a 38 to a 36," begins Doug. "My body fat dropped from 26% to 19.3%. I've seen improvements in my strength and confidence. I consistently get compliments from friends and family who are proud of me for the accomplishments I've made."
The Fit Father programs teach you how to create a new healthy lifestyle.
There's no guesswork and no extreme restrictions.
Just a step-by-step plan, a Brotherhood, and long-lasting results!
The FFP Brotherhood
When you begin FF30X, you gain instant access into the private Members-Only group.
This online group gives you the opportunity to connect with other members, share successes, ask questions, and stay motivated.
Members can also communicate with Fit Father trainers and support specialists for added resources, tips, and guidance.
"The Fit Father programs are phenomenal," states Doug. "I've lost 34 lbs. I've gained strength and I've improved my range of motion. I'm grateful to have joined the Fit Father Brotherhood back in 2018."
Strong at 60: Doug's Fit Father Journey
Over the last two years, Doug has completed the FF30X Phases 1-3 and Old School Muscle Phase 1.
Old School Muscle (OSM) is the leading muscle building program for men over 40.
"Once I hit my target weight, I started to focus on adding muscle," explains Doug. "My goal was to add muscle mass and have a defined physique, so I started Old School Muscle."
Fit Father Doug completed Old School Muscle and is now following the FF30X Phase 4 program.
"I want fitness and good health to be a part of my everyday life," states Doug. "The Fit Father programs help me do that!"
4 Lessons to Learn from Doug's Success:
Lesson 1: It is possible as a man over 40 to have energy levels as you did in high school! You can be strong at 60 or any other age! When Doug joined the Brotherhood, he was constantly tired. After following the Fit Father programs, his energy levels increased. He regained the energy that he had years ago while playing high school rugby.
Lesson 2: Weight loss meal plans do not have to be restrictive, boring or expensive. The Fit Father meal plan is easy to follow and simple. With the varying meal timing setups and delicious recipes, you will want to stick to the program!
Lesson 3: You don't have to go through your weight loss journey alone. When you join the Fit Father Brotherhood, you are instantly connected to a community of like-minded men with the same struggles, following the same program. Between the Brotherhood and the daily accountability from the Fit Father team, you will be supported until you hit your ultimate goal.
Lesson 4: Fit Fathers see results when they follow the program path. The FF30X weight loss series has four phases that guide members through every progression of their weight loss journey. The phases evolve with the member's strength and progress. Your first step on the proven weight loss path for men 40+ is Fit Father 30X. Join today and start seeing your results!
Here's How Busy Fathers Over 40 Are Finally Burning Stubborn Belly Fat & Getting Healthy Without Restrictive Diets or Time-Consuming Workouts
This proven "Fit Father Program" has helped 38,000 busy men 40+ lose weight, rebuild muscle, and finally keep the weight off.
If you're frustrated with stubborn belly fat, failed diets, and time-consuming workouts, this is the answer you've been looking for…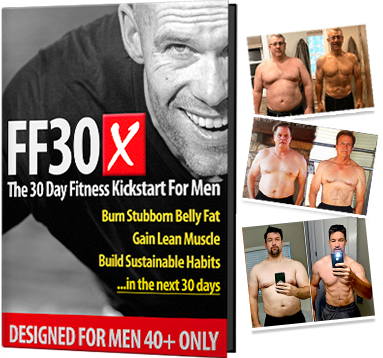 Join 38,000 guys in over 108 countries that are using FF30X to lose weight. You get everything you need to succeed – including:
The Fit Father Meal Plan – with simple & delicious recipes
Safe & Effective Workouts Program – only 90 min/week
VIP Accountability Coaching – our Fit Father Team will personally walk you to success, step-by-step.
LEARN MORE ABOUT FF30X >>
See the FF30X Program overview here. You'll discover how this proven Fit Father Program can help you lose weight and actually keep it off – without the complication and restriction of normal diets. »
*Please know that weight loss results & health changes/improvements vary from individual to individual; you may not achieve similar results. Always consult with your doctor before making health decisions. This is not medical advice – simply very well-researched info on how Fit Father Doug lost 34 lbs, changed his life, and got strong at 60.