Everyone loves huge biceps, and that love is not entirely vain either. The bicep is one of the most utilized muscles in our body. The TRX bicep curl is an amazing workout for strengthening biceps, and you don't even need weights to do it. You'll feel the burn in your forearms as well.
Additional resistance can be added simply by adjusting the position of your body. The additional resistance is great if you find yourself adapting to the exercise. Take a look at the video tutorial below to make sure you have the proper form.

5 Best Muscle Building Exercises for
men Over 40
It's 100% possible to build muscle - at any age - with the proper methods.
TRX Bicep Curl – Step-by-step Technique
Step 1: Ensure the TRX suspension is secured firmly at an elevated position. Grasp the handles with each hand, palms up and facing you.
Step 2: Lean back with your feet together. Maintain a neutral position with your spine for the entire lift.
Step 3: Using your biceps, bend your elbows and bring your body all the way to the handles.
Step 4:Lower yourself back down and repeat.
** Pro Tip #1: To start, complete this exercise with 2-3 sets of 10-15 reps.
Check out the TRX Tricep extension, which can be done in conjunction with the TRX bicep curl.
To learn more exercises that you can use in your training, visit our complete exercise library on the Fit Father Project YouTube channel.
Enjoy!
The Men's Health Experts @ The Fit Father Project
If you're interested in a proven and completely laid out "done-for-you" weight loss meal plan & workout routine – designed for you as a busy man…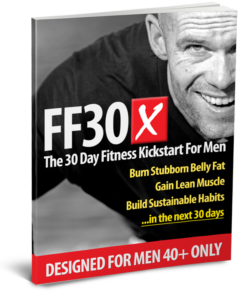 I'd recommend you read the program overview letter for our
Fit Father 30-Day Program
(FF30X).
Inside FF30X, you'll receive:
The simple & delicious Fit Father Meal Plan
The metabolism boosting Fit Father 30X Workout (under 90 min/week)
VIP email coaching where I'll personally walk you through the program
Read the FF30X Program overview letter here to see how our plan can help you lose weight – without the complication & restriction of normal diets.
*Please know that weight loss results & health changes/improvements vary from individual to individual; you may not achieve similar results. Always consult with your doctor before making health decisions. This is not medical advice – simply very well-researched info on the TRX bicep curl.