M
aking the decision to lose weight is easy, but going to the gym every day can be difficult and time-consuming. Fortunately, you can still get fit with the
best
weight loss exercises for men at home.

It's a great feeling hitting the gym, but the reality is you may not have the time to visit the gym as much as you'd like. The reality is that a good home workout is just as effective as anything you can do at the gym.
Weight Loss Exercises to Help Fat Loss
Try one or all of these at home to start seeing the fat disappear:
Jumping Rope
This is a really simple exercise that can be done inside or out. All you need is a rope and a small amount of space.
This is actually a really good full-body workout.
It is best to skip for just 2 minutes at a time and then take a one minute break before repeating. You don't need to jump high, just enough to clear the rope is perfect.
The Med Ball Slam
This is great for burning fat but also for getting rid of anger and stress.
Simply lift the ball above your head and then push yourself up onto your tiptoes. Throw the ball down to the floor as hard as you can, then catch it as it bounces back to your chest.
Squats
This simple exercise is best performed with a dumbbell in each hand or a kettlebell. The challenge is to do 10 reps a minute and repeat it ten times.
If you can do that, increase the weight you're using.
The Farmer's Walk
This actually replicates some of the most common movements you make on a daily basis and amplifies them.
Take one dumbbell or kettlebell and hold it in your hand like a shopping bag. Then walk.
Try switching hands every couple of minutes and keep walking for ten minutes.
The weight places additional strain on your muscles, increasing your calorific burn, and working your core as you constantly have to adjust your body to remain balanced.
You can make this more challenging by adjusting the position of the weight.
Stepping Up
This is a low impact option to work your lower body while consuming a high number of calories.
Simply pick a surface half the height of your knees and step on and off of it. You can increase the intensity of the workout by jumping on and off of it.
Home Exercises To Work Your Core
Building your core will give you better balance and stability for everyday activities and your other weight loss exercises:
The Crunch
The best way to do this is by lying on your back with your feet on the wall. Your knees should be bent to 90°.
Then lift your head and shoulders off the floor. It is best to cross your arms over your chest. Stay off the floor for 3 breaths, then lower yourself back down and repeat.
Ideally, aim for at least 10 before you take a short break and complete 3 sets.
Bridging
Again you start by lying on your back. Your feet should be flat on the floor with your knees bent.
Then lift your hips off the floor to make a straight line from knees to shoulders. You're aiming to hold the position for 3 breaths before lowering your hips and then repeating.
Planking It
You've probably heard of the plank. It's a great way of building your core.
Put your forearms on the floor with your elbows in line with your shoulders. Then lift your body upwards onto your toes. Your legs should be straight. Keep your stomach tucked in and hold for at least 30 seconds before pausing and repeating.
You can actually try a variety of plank poses.
Isolate The Right Muscle Groups
It's important to do different exercises each day. This will help to give your body the time it needs to recover from your exercise and build more muscle.
Don't forget muscle burns more calories at rest than fat does. Building muscle will help you to burn more fat. It is possible to lose fat and gain muscle at the same time.

An isolation exercise means working one specific muscle at a time. Compound exercises are those that work more than one muscle at the same time. This is the type that replicates everyday movements best.
The only time to commit to isolation exercises is if you're trying to correct a muscle imbalance. This is often caused by an injury. You may also want to target a specific muscle for your required look.
Isolation exercises also help to improve your strength, allowing you to improve other muscle groups.
For example, bicep curls can give you stronger arms helping you to complete more back exercises.
Good examples of isolation exercises are:
Bicep curls
Leg extensions
Chest press
Overhead press
Tricep extension
Summing Up The Best Weight Loss Exercises For Men At Home
Join FF30X today and gain access to hundreds of different exercises, informational videos, meal plans, and, most importantly, the support of other men who have and are in the same situation as you. Using weight loss exercises at home is just the beginning.
Getting fit is easier than ever. With the proper mindset and the right information, you can get the body you have always desired. Click the banner below to get started.


Your new friend & health coach,

Here's How Busy Fathers Over 40 Are Finally Burning Stubborn Belly Fat & Getting Healthy Without Restrictive Diets or Time-Consuming Workouts
This proven "Fit Father Program" has helped 25,000 busy men 40+ lose weight, rebuild muscle, and finally keep the weight off.
If you're frustrated with stubborn belly fat, failed diets, and time-consuming workouts, this is the answer you've been looking for…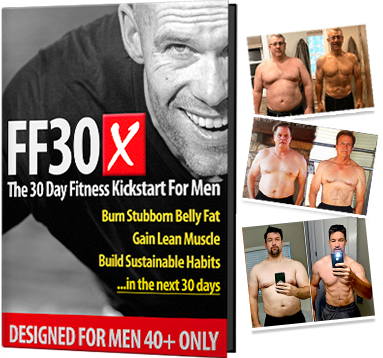 Join 22,000 guys in over 98 countries are using FF30X to lose weight. You get everything you need to succeed – including:
The Fit Father Meal Plan – with simple & delicious recipes
Safe & Effective Workouts Program – only 90 min/week
VIP Accountability Coaching – our Fit Father Team will personally walk you to success, step-by-step.
LEARN MORE ABOUT FF30X >>
See the FF30X Program overview here. You'll discover how this proven Fit Father Program can help you lose weight and actually keep it off – without the complication and restriction of normal diets. »
*Please know that weight loss results & health changes/improvements vary from individual to individual; you may not achieve similar results. Always consult with your doctor before making health decisions. This is not medical advice – simply very well-researched info on weight loss exercises for men at home.