D
o you know what the single thing barrier is that stands between you and your weight loss goals?
Consistency. Being consistent with your diet is the number one way to make sure you shed the pounds you're not proud of.

When weight loss can boil down to one four-syllable word, it doesn't seem as daunting now does it?
Unfortunately, we know better than anyone that being consistent with your diet is incredibly challenging.
Time slips away from us as we care for kids and work demanding jobs.
And that's where weight loss meal prep for men comes in!
According to the Harvard School of Public Health, meal prepping is an effective means of creating a healthy eating schedule.
And our experience backs that up!
Not only can meal prepping save you time and money, but it will save you peace of mind that you're filling your body with the nutrients that it needs.

Learn how to implement meal prepping for weight loss today!
Weight Loss Meal Prep for Men: Myth Buster Time
First thing's first: let's address the bad rap meal prep has.

We want to dispel some of the worst myths about meal prep right off the bat so we can truly show you what it can do for your health and life.
Myth #1: Only super serious bodybuilders do meal prep
FALSE! We're sure that super serious, iron-pumping and protein chomping body builders use meal prep. But we also know that everyday Joes like ourselves also use meal prep.
Meal prepping is just a way of preparing your food in advance so that your week's diet is planned out and easier to adhere to.

No demographic requirements there.
Myth #2: Meal prepping takes forever
FALSE! Meal prepping actually minimizes your time in the kitchen– both in prepping food and cleaning up. Who wouldn't want to spend ONE afternoon each week cooking and only ONE afternoon cleaning up… We're pretty sure a bunch of hands just went in the air.
Myth #3: Meal prepping is expensive, and food probably goes to waste
FALSE! From our experience, meal prepping is a less expensive and more reliable way to stay on your diet. Reason being, you plan all your meals in advance! This allows you to take one very focused trip to the grocery store to buy all your week's needs. Because you're prepping food and storing it all at once, there is no chance for you to forget about produce or for it to go bad.
Myth #4: There's no way my family will like pre-stored dinners
FALSE! The beauty of meal prep is, you can make it all your own. As long as you're staying within your dietary restrictions, there is no limit to the delicious and unexpected combinations you can think up.
And while meal prep food is typically stored in Tupperware and all that's needed is a microwave to reheat it, we're pretty sure no one in your family would know it was "meal prepped" if you put it on a regular dinner plate.
Convinced yet?
What we're trying to get at is, meal prepping is one of the most time, cost and energy efficient choices you can make for your fitness.
Weight Loss Meal Prep for Men: Get Started
Meal prep is one of those things that seems daunting until you try it… then you're kicking yourself for not trying it earlier!


Here's a step by step guide on how to get started on weight loss meal prep for men so you can eliminate any false starts.
Pick a prep day
First thing's first: you need to decide what day of the week that you want to prepare your meals on. Popular days seem to be Saturday, Sunday and Wednesday. Saturday and Sundays are good days to prep meals on because the majority of us are off work and have more time on our hands. Wednesdays come into the mix because some choose to prep twice a week, and Wednesday is right in the middle.
Plan your meals and create a grocery list
Next, you'll need to plan out your meals. This can seem like the most daunting part of the process, as your meals for the next week depend on it.
But all you really need to do is come up with a list of protein, carbs, healthy fats and vegetables that you can mix and match throughout the week! Check out our meal prep for men shopping cheat sheet below and imagine how many combinations of meals you could make with all of these.
Protein: eggs, chicken, canned wild salmon
Carbs: quinoa, whole wheat pasta, fruit, sweet potato, brown rice
Healthy Fats: avocado, mixed nuts, olive oil
Vegetables: broccoli, asparagus, mixed salad (spinach, rocket, kale)
Brave the grocery store
If you're not used to being the usual grocery shopper for your family, this could be a challenge. But all you need to do is hold tightly to your list and only buy what you wrote down. That way, you won't have any bad junk food to stray with during the week.
Cook and store your meals
Once you've crossed off everything on your grocery list, it's time to cook and store your meals. The best way to tackle this is to roast your veggies in the oven while you cook your meat on a skillet and steam your carbs on your stovetop. Voilá! This method keeps you cycling through all your protein, carbs and vegetables at once so cooking doesn't take forever. After everything is done the cooking, package them into individual meals.
Healthy Dieting Can Transform Your Life
Meal prepping will free your time up to take charge of your life in other ways.
You'll be able to spend more time with your family, or more time exercising.
If you're ready to tackle your holistic health, you should check out our FF30X program.

FF30X is the first sustainable diet & exercise program that was designed exclusively for busy fathers and men over 40 who want to lose weight, burn belly fat, build lean muscle, and get healthy for life.
Don't let anything stop you from pursuing the healthy life that you deserve in your 40s and older.

Here's How Busy Fathers Over 40 Are Finally Burning Stubborn Belly Fat & Getting Healthy Without Restrictive Diets or Time-Consuming Workouts
This proven "Fit Father Program" has helped 38,000 busy men 40+ lose weight, rebuild muscle, and finally keep the weight off.
If you're frustrated with stubborn belly fat, failed diets, and time-consuming workouts, this is the answer you've been looking for…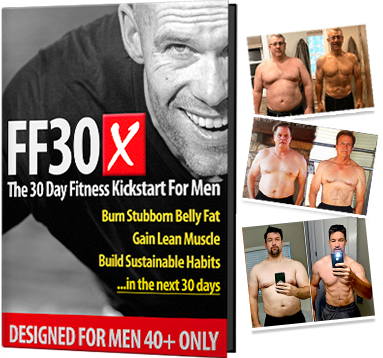 Join
38,000
guys in over
108
countries that are using FF30X to lose weight. You get everything you need to succeed – including:
The Fit Father Meal Plan – with simple & delicious recipes
Safe & Effective Workouts Program – only 90 min/week
VIP Accountability Coaching – our Fit Father Team will personally walk you to success, step-by-step.
LEARN MORE ABOUT FF30X >>
See the FF30X Program overview here. You'll discover how this proven Fit Father Program can help you lose weight and actually keep it off – without the complication and restriction of normal diets. »
*Please know that weight loss results & health changes/improvements vary from individual to individual; you may not achieve similar results. Always consult with your doctor before making health decisions. This is not medical advice – simply very well-researched info on meal prep for men.