T
he squat thrust is an outstanding exercise for working your core and burning lots of calories. Adding the squat thrust into your workout will give you a variation from the usual cardio workouts you may do.
Mixing squat thrusts into a circuit with burpees and mountain climbers is much more exciting than running on a treadmill!
The most important part of this exercise is to keep your core tight and don't let your back round at the top part of the movement or sag at the bottom part. Both of these mean your core is not tight, and your lower back is not protected.
Take a look at our video tutorial below to see the fine form points of this exercise, and if you need something to print off and take to the gym, you can find our step-by-step exercise technique further down this page.
Squat Thrust – Step-by-Step Technique
Step 1: Start by getting into a raised plank position, but resting on your hands instead of your forearms.
Step 2: Make sure your body is in a straight line (Head, shoulders, hips, knees and toes), your shoulders are pushed away from the floor and your core is tight.
Step 3: Breathe in, then breathe out as you jump your feet forwards so they land as close to your hands as you can get them without arching your back up.
Step 4: Breathe in as you jump your feet back out to the start position, holding your core tight and making sure your back does not sag.
** Pro Tip #1: We recommend you start with as many reps as possible for 30 secs.
** Pro Tip #2: As you complete the exercise, keep your core strong to protect your lower back.
To learn more exercises that you can use in your training, visit our complete exercise library on the Fit Father Project YouTube channel.
Enjoy!
The Men's Health Experts @ The Fit Father Project

Here's How Busy Fathers Over 40 Are Finally Burning Stubborn Belly Fat & Getting Healthy Without Restrictive Diets or Time-Consuming Workouts
This proven "Fit Father Program" has helped 25,000 busy men 40+ lose weight, rebuild muscle, and finally keep the weight off.
If you're frustrated with stubborn belly fat, failed diets, and time-consuming workouts, this is the answer you've been looking for…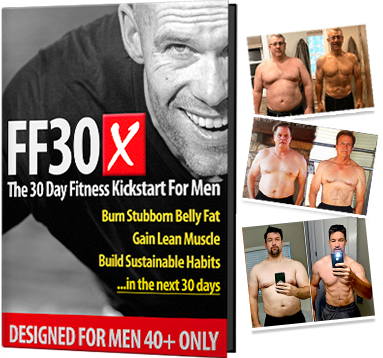 Join 22,000 guys in over 98 countries are using FF30X to lose weight. You get everything you need to succeed – including:
The Fit Father Meal Plan – with simple & delicious recipes
Safe & Effective Workouts Program – only 90 min/week
VIP Accountability Coaching – our Fit Father Team will personally walk you to success, step-by-step.
LEARN MORE ABOUT FF30X >>
See the FF30X Program overview here. You'll discover how this proven Fit Father Program can help you lose weight and actually keep it off – without the complication and restriction of normal diets. »
* We hoped you enjoyed this article. Remember to always consult your doctor before starting any new exercise program and that this is not medical advice – just well-researched info. Please see our disclaimer at the bottom of this website. Exercise intelligently and safely at your own risk.