Pour out that orange juice and toss the toast.
In this article, you're about to discover the exact recipe for creating the world's best breakfast for weight loss and increasing your overall health.

We'll also touch upon 4 fast, affordable, and convenient recipes that you can make for breakfast tomorrow to boost your metabolism and energy.
To cut straight to the chase, there's a BIG breakfast secret. The best breakfast for weight loss and feeling energized is all about creating one thing:
The optimal chemical environment inside your BRAIN.

Say what!? Breakfast is all about my brain? Yes. Here's why…

Your brain functions by using tiny chemicals called neurotransmitters. Your body's most important neurotransmitters (serotonin, dopamine, acetylcholine) enable you to store new information, recall memories, regulate hunger/food cravings, and even maintain motivation to stick to healthy eating.
So, I'm going to let you in on the FIRST SECRET to the world's best breakfast for energy and weight loss…


Your brain's key neurotransmitters are influenced by the specific foods you consume first thing in the morning.
Therefore, the best breakfast for energy and weight loss incorporates a food combination that balances your brain's precious neurotransmitters.
On that note, let me introduce you to what our team here at The Fit Father Project has come to know and love as the –
"The World's Best Breakfast For Energy And Weight Loss."
This specific breakfast combination…
Creates a slow, steady rise in blood sugar for elevated morning energy.
Includes healthy, brain-smart fats to stabilize blood sugar for greater stamina.
Increases Dopamine and Acetylcholine – the brain's 2 key "focus chemicals."
Incorporates the best fat-burning foods to help you lose weight – the delicious way.
Best of all? This breakfast is incredibly simple to prepare. In fact, there are only 3 steps to follow.
Step #1: Start with free-range eggs, a healthy meat, or a high quality plant-based protein powder
Free-range eggs and organic meats (or plant based proteins) are the absolute best things you can eat first thing in the morning. No, eggs are not bad for your cholesterol. If you have fallen victim to this famously bad nutrition myth before, read this article.
Free-range eggs, organic meat, and complete plant protein powders contain every amino acid to build your brain's precious neurotransmitters. Plus, the morning protein will help stabilize your blood sugar (very key!).

Both eggs and meat, in particular, contain high levels of both Tyrosine and Phenylalanine – 2 key amino acids precursors to Dopamine (focus-enhancement) and Norepinephrine (energy/fat-burning).
The Bottom Line: Prioritize protein in the morning
for the key amino acids. Bonus – if you really want to feel like a superhero, add in 1-2 high-quality free range eggs.
Here's exactly what NOT to do for breakfast…
America's favorite breakfast foods (breads, juices, cereals, milk, fruits, and pastries) are full of high glycemic, energy-crashing carbohydrates, which lead to wildly fluctuating blood sugar levels.
Even "so-called healthy" foods like whole grain cereals, wheat toast, and granola create the same blood sugar problems.
As your blood sugar level skyrockets, you'll feel an energy buzz for an hour or so. Your body will compensate by releasing massive amounts of insulin, and, an hour or so later, you'll experience the impending fatigue, brain fog, and decreased productivity. Not good.
To avoid this blood sugar "roller-coaster," we need to prioritize a slower burning fuel – like the quality proteins and healthy fats found in eggs, organic meat, and complete plant proteins.
We need quality protein.
That's Step #1. Here's what's next…
Step #2: Add in some nuts for healthy fats to further increase stamina & energy
To complete the world's best breakfast for weight loss, we'll add in a handful (around 1/4 cup) of healthy nuts. The healthy fats in nuts work synergistically with the quality proteins in our breakfast to increasing stamina and further stabilizing blood sugar. These are a must-have for breakfast.
Important Note:
With nuts and seeds, watching the portion size is extremely important. I recommend measuring out 1/4 cup, and sticking to that amount. Nuts and seeds are
extremely
healthy for you – in the proper portion.
In terms of which nuts/seeds to eat, the best choices are: almonds, cashews, walnuts, sunflower seeds, pumpkin seeds, & macadamia nuts. Preferably organic. I'd also avoid peanuts.
"Anthony, what if I am allergic to nuts?"

Opt for some low-glycemic/low-fructose fruits instead:
Avocado
Grapefruit
Blueberries*
Blackberries*
Raspberries*
Strawberries*
*Always buy organically – these fruits are very high in pesticides when grown conventionally.
Step #3: Drink Organic Green Tea, Quality Black Coffee, & H2O
Many people make the huge breakfast mistake of consuming way too much sugar in the morning – particularly through milks, fruit juices, and smoothies. The best breakfast for energy and weight loss avoids this sugar trap. If you want to lose weight and have high energy levels, you must avoid these drinks in the morning.
YES – that means you should avoid the "natural" smoothies and fresh-pressed juices made primarily from fruit.

For the best fat-burning morning protein shake that ACTUALLY WORKS for fat loss and muscle building, I recommend you get your hands on a FREE copy of our "1-Day Meal Plan For Busy Fathers."
Here's A Free Weight Loss Meal Plan For Busy Men 40+
Discover exactly what to eat for breakfast, lunch, and dinner to lose belly fat & feel energized 24/7 without hard dieting...
* To learn how to juice properly,
read this juicing guide here.
In the morning, I recommend you stick strictly to high quality Black Coffee, Organic Green Tea, and good ol' water. My personal favorite is Numi's Gunpowder Organic Green Tea.
Organic Green Tea not only contains powerful anti-oxidants to increase overall health, but also contains mood-enhancing compounds like L-Theanine to further boost well-being.
SUMMARY – 4 Sample Meals Of The Best Breakfast For Energy And Weight Loss
Sample Meal #1

3 sunny side up eggs
1 cup spinach
walnuts (1/4 cup)
8oz green tea
Sample Meal #3

2 scoops Maximum Vibrance

Pumpkin seeds (1/4 cup)
1/2 tbsp virgin coconut oil
32oz water
Sample Meal #2:

3 eggs + 2 whites scrambled
1/4 cup brazil nuts
1 cup mixed greens
6oz black coffee
Sample Meal #4

7oz organic ham
Sautéed veggies
1 whole egg
8oz green tea
That's it for the world's best breakfast for energy and weight loss! I hope you enjoyed this article.

If you want to know EXACTLY what to eat the rest of the day – meal-by-meal – to burn off belly fat and feel energized – then I recommend you get your hands on a FREE copy of our "1-Day Weight Loss Meal Plan For Busy Fathers."
Here's A Free Weight Loss Meal Plan For Busy Men 40+
Discover exactly what to eat for breakfast, lunch, and dinner to lose belly fat & feel energized 24/7 without hard dieting...
Click here to get a FREE copy of this meal plan sent straight to your email.
Also, if you found this article useful, please share it with someone you love who could benefit from this.
What would happen to our world if we all started eating better in the morning? The smart money bets on the fact that our world would be a bit happier, more productive, and (a hell of a lot more) energetic. Let me know what you think in the comments below.
Yours in lifelong vibrant health,
Here's How Busy Fathers Over 40 Are Finally Burning Stubborn Belly Fat & Getting Healthy Without Restrictive Diets or Time-Consuming Workouts
This proven "Fit Father Program" has helped 38,000 busy men 40+ lose weight, rebuild muscle, and finally keep the weight off.
If you're frustrated with stubborn belly fat, failed diets, and time-consuming workouts, this is the answer you've been looking for…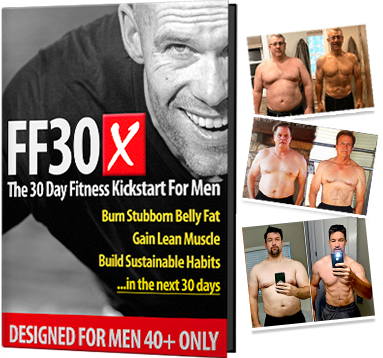 Join
38,000
guys in over
108
countries that are using FF30X to lose weight. You get everything you need to succeed – including:
The Fit Father Meal Plan – with simple & delicious recipes
Safe & Effective Workouts Program – only 90 min/week
VIP Accountability Coaching – our Fit Father Team will personally walk you to success, step-by-step.
LEARN MORE ABOUT FF30X >>
See the FF30X Program overview here. You'll discover how this proven Fit Father Program can help you lose weight and actually keep it off – without the complication and restriction of normal diets. »
Small note about research cited in this article:

*Always remember: weight loss results & health changes/improvements vary from individual to individual. Just because these studies cite certain data does not mean you will experience these results/outcomes. Always consult with your doctor before making decisions about your health. This is not medical advice – simply well-researched information. Thanks for reading!