Finishing any run or a session in the gym makes you feel great. There is nothing quite like the post-workout glow. However, thinking about this glow isn't always enough. Sometimes you have to dig deep to find even a little workout motivation.
The real secret to long term working out is actually to build a habit. When something is a habit, you simply do it without even thinking why or whether you should be.
Research suggests that it can take approximately 66 days to build a habit. That means workout motivation is essential for 66 days.
Finding workout motivation can seem difficult at times, but it doesn't have to be. Check out these simple steps and start your journey to a new, fitter, stronger, and more motivated version of yourself.
Ways to Inspire Workout Motivation
The secret to successful workout motivation is to commit to making a change.

Maybe you can't make all the following changes in one day. But, you can progressively add them into your daily routines and discover a whole new level of motivation.
The best part is that this isn't just workout motivation; it can improve all areas of your life!
Create a Schedule
This is often referred to as chaining. In short, you allocate a time to work out and link this time to something else.
For example, schedule your gym visit for 30 minutes straight after you finish work. Finishing work is something you do every day, and if the next thing is 30 minutes in the gym, you won't think about why you're working out or whether you should be.
It's simply something you do.

Chaining or creating a schedule is the best way to make working out a habit. Once you've got the habit established, workout motivation isn't something you need to worry about!
Download an App
Today there is an app for almost everything, and if there isn't an app already, there soon will be. This is a good thing! You can use these apps to help you build workout motivation.
Depending on what your goal is, you may find the following apps useful:
This app is designed to guide you through the steps needed as a new runner allowing you to be ready to run 5k in just 9 weeks!
It doesn't just give you the routines to follow. It also gives great motivational tips.
This app works like a personal trainer but at a much cheaper rate! You simply decide your fitness goals and choose which routines you prefer.
The app will then select from over 1,300 exercises and provide you with images and step-by-step instructions ensuring you reach the goal.
This app also has more than 1,300 exercises, but they are categorized by muscle groups.
There are two options with JetFit: allow the app to create your workout program or select your own exercises based on the muscle groups you want to work.
Apps are incredibly motivational as they are constantly at your fingertips, reminding you and coaxing you to give them a go.
Join a Weight Loss Program
Let's face it. Most men are looking for workout motivation because they realize they've put on a little weight.
Shifting the weight is a priority. Toning muscles and building a better body is a side effect and something that can be worked on more in the future.
But effective weight loss means adjusting your eating habits, sleeping habits, exercising, and getting the right mindset.
To do this effectively, you may need a little help, and a weight loss program is the perfect solution.
But don't just join any program. Join the FF30X and benefit from the program that has helped thousands of men lose weight and build the body of their dreams. We give you the tools needed to dig deep and find the motivation to be able to push through the hard times and conquer your weaknesses.
Here's How Busy Guys 40+ Are Finally Losing Weight…
If you're in your 40s, 50s, & 60s, you need to eat and exercise differently to lose weight & actually keep it off…
Participate in an Online Community
As well as getting the support and advice you need by joining the FF30X program, you can share your progress and get tips from other members of the Fit Father family.
But, it is also worth boosting your workout motivation by joining online forums, such as Reddit or Facebook. On these forums, you'll be able to discuss your progress and motivate others.
By having to post progress updates, you'll be accountable to others. No one wants to post a week of doing and achieving nothing. The thought of having to account for your actions is a great motivator.
Here are a couple of forums to help you get started:
Improve Your Shopping Skills
The next step you need to take is to improve your eating habits. This will ensure you have the nutrients you need for a healthy body. Eating right can help you to lose weight and inspire you to exercise more.
In short, starting to lose weight is a great way to gain workout motivation. Try going shopping for the following items, and you'll see an improvement in your motivation to work out:
Groceries
You need to start eating whole grains, eggs, lean meat, salmon, leafy greens, beans & legumes, tuna, and even Greek yogurt.
The array of options can seem confusing, but there are two simple rules you can follow when preparing your shopping list:
Avoid Processed Foods
Processed foods generally have a high volume of sugar, salt, and other chemicals. None of these are going to help your workout motivation.
Wherever possible, skip the processed foods and make your own delicious meals.
Choose Perfect Plate Options
The perfect plate approach to eating is ½ vegetables, ¼ protein, and ¼ carbohydrates. If you think about this before you shop you'll be able to choose the right ingredients to make every meal like this.
Supplements
In theory, you should get all the nutrients you need from your food.
However, this is not always the case in practice.
It's a good idea to top up your vitamin intake and boost your energy levels for working out.
Supplements are great for pushing through workouts. You can really feel their effects at times.
Weight loss protein powder, creatine, and even caffeine are all great options for inspiring workout motivation.
Workout Gear
You should also be shopping for things to help you work out. This means having the right gear. Simply putting this gear on can help you to feel motivated to exercise.
You can also invest in a set of kettlebells or jump rope to help you want to exercise. The exact equipment you choose will depend on the exercise you're hoping to do. If you're still undecided, try this free workout.
Sharpen Your Skills With YouTube
Articles are great at giving advice, and words can be really inspiring. Just take a look at Nike's simple catchphrase, Just Do It. They say a picture is worth a thousand words, which means a video is worth a million words or more!
There are tons of great videos capable of inspiring working motivation. There are workout videos, instructional videos, and inspirational videos.
Check out these motivational clips to see what I mean.
NO EXCUSES

https://www.youtube.com/watch?v=wnHW6o8WMas
WINNERS MINDSET

https://www.youtube.com/watch?v=jwjGw3BCryI
You should also take a look at these videos from The Fit Father Project and be prepared to be inspired!
Welcome to The Fit Father Project

https://www.youtube.com/watch?v=qdBS5Yqa4Hk
Start a Project
If you're still struggling to find workout motivation, then you should consider starting a project.
Any activity that raises your heart rate will burn calories and help you to lose weight.
As the weight starts to fall off, you'll have more energy and start to feel the urge or need to exercise more. All you have to do is start.
A project is a great way to elevate your heart rate, achieve something, and improve your health. Consider starting and completing one of these projects:
Build a fence around your garden.
Landscape the garden – design it first and then start digging.
Erect a shed – if you don't need it for tools, it can be your workout room.
Dig a pond or a swimming pool if you're feeling really adventurous.
Re-decorate your house.
Set a Goal
Another great way to get workout motivation is to set yourself a goal. But, it must be an achievable goal. You'll be less motivated if you work towards a goal and never seem to get closer.
One goal that many people use is to be able to run their first 5K or even to complete a marathon. Providing you set the date just far enough in the future to complete training, you'll find it's a very motivational strategy.
Alternatively, you can set yourself a different kind of goal or challenge, such as hiking the Appalachian Trail. Don't forget that hiking the entire trail can take between 5 and 7 months, so you may want to just select a part of the trail for your first goal.
Reward Yourself
Setting goals is a great way to get motivated, but you have to be ready for the event in order to stand a chance at completing it. By telling friends about what you're doing, it makes it hard to back out.
However, a goal such as hiking the Appalachian Trail can take months to prepare for and may seem far enough away that you can afford to miss a few training sessions.
In order to get started and reach your goal, you need to set smaller goals and then give yourself an instant reward. The more instant the reward, the better your body will associate it with the activity you've undertaken.
Of course, high-sugar and high-fat foods are not good rewards. But, a piece of dark chocolate or fruit works great.
You'll be surprised at how motivational this is!
Make it Fun
When starting to exercise for the first time in a while, it can be tempting to go all in.
However, this is likely to make you overdo the exercise, potentially injure yourself, and you'll lose interest as it is so challenging.
Exercise can and should be fun! Choose something that you enjoy doing, and you'll find it much easier to be motivated.
Small Changes Work Best
Don't forget that you need to make small changes in your lifestyle.
Trying to gain workout motivation by following all the above steps in one go is likely to be difficult.
Instead, try making small changes to your lifestyle and exercise habits. You'll be surprised at how much easier this is and how much more motivating.
Make a Chain
If you're struggling with workout motivation, then this can be an effective way of getting you started and keeping you going.
Simply workout once and place an 'X' on your calendar. Ideally, you should have a big calendar so that it can be seen across the room.
One X looks good, but if you work out several days in a row, this X will turn into a chain of X's. That's incredibly satisfying and motivating.
You won't want to break the chain once you've got it going!
Goal Reminders
Many people start working out because they've had a health scare, a big event is coming up, or perhaps someone has pointed out that they aren't in as good a shape as they thought they were.
This can really help with your motivation when you start working out, but the initial enthusiasm can fade. Relying on emotional queues can have you forgetting to workout, which can derail the entire train.
To avoid this, set reminders on your phone, your laptop, post a note on your desk, the calendar, anywhere that will help you to remember to workout.
Learn About Working Out
If you really want to boost your workout motivation, then it's time you started to learn more about working out. Challenge yourself to do this free workout and see if you understand what muscles are being worked.
In this instance, knowledge really is power.
When you know that a specific exercise works your arm muscles, and you want bigger arms, it's much easier to start doing the exercise and even visualize the muscle gains.
Here's A Free 24-Min Fat Burn Workout For Busy Men 40+
This powerful workout will reignite your metabolism to burn fat 24/7 like you did in your 20s…
Thoughts to Take Home
Workout motivation is essential to build the habits that will last you for a lifetime. The above steps will help you to gain the workout motivation you need. But before you do anything, you need to take a moment to believe in yourself.
Visualize yourself as you want to be, and you'll find it easier to believe that you can achieve your goals.
Just remember, join the FF30Xtoday, share your current status, and then keep everyone up to date on your progress. Not only will this help to motivate you and inspire others, but your membership will also give you access to a huge amount of exercises and nutritional advice.
These will help you to keep the variety in your exercise program, allowing you to enjoy it, and ultimately, for workout motivation to be irrelevant.

Your new friend & health coach,

Here's How Busy Fathers Over 40 Are Finally Burning Stubborn Belly Fat & Getting Healthy Without Restrictive Diets or Time-Consuming Workouts
This proven "Fit Father Program" has helped 25,000 busy men 40+ lose weight, rebuild muscle, and finally keep the weight off.
If you're frustrated with stubborn belly fat, failed diets, and time-consuming workouts, this is the answer you've been looking for…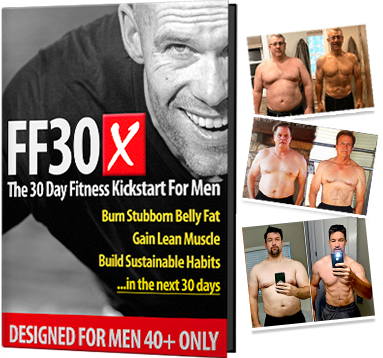 Join 22,000 guys in over 98 countries are using FF30X to lose weight. You get everything you need to succeed – including:
The Fit Father Meal Plan – with simple & delicious recipes
Safe & Effective Workouts Program – only 90 min/week
VIP Accountability Coaching – our Fit Father Team will personally walk you to success, step-by-step.
See the FF30X Program overview here. You'll discover how this proven Fit Father Program can help you lose weight and actually keep it off – without the complication and restriction of normal diets. »
*Please know that weight loss results & health changes/improvements vary from individual to individual; you may not achieve similar results. Always consult with your doctor before making health decisions. This is not medical advice – simply very well-researched info on workout motivation.