TRX stands for Total Body Resistance Exercise. These types of exercises are completed with a suspension trainer that usages gravity and your own body weight. There are 100's of exercises which can be completed with these suspension straps.
The TRX push-up adds a new twist to the classic push-up, making it more difficult. This is because the suspension trainer adds instability to the workout. This will challenge your control level and work your chest in more directions than a standard push-up.
Take a look at our free 1-day meal plan to see how you can change your eating habits today. If you're feeling ready for something a little more strenuous then give the 24-hour workout a go!
Getting The Form Right
Here's how to do a TRX Push-up the right way:
Adjust the height of your suspension hoops to match the level of your knees. The higher the hoops the easier the TRX push-up will be.
Take one hoop in each hand and make sure your shoulders are in line with your wrists. This will help to prevent shoulder injuries when completing the move.
Move your legs behind you until your body is straight. This should be approximately a 45° angle to the floor.
Squeeze your abs and glutes to ensure your hips don't sag. This is the starting position.
Now slowly lower your body by bending your elbows. Do not get your body lower than your hands; you are likely to damage your shoulders.
Your ability to lower your weight will quickly improve but for the first time just test your limits.
Once you've completed the downward move you can lift your body back up by extending your arms.
To make it more difficult, squeeze your arms together at the elevated position. Push them back out before dropping down again.
Keep the action smooth or you'll start spinning on the suspension cables and lose your balance.
It is essential to keep your spine straight while doing the TRX push-up. This will ensure you have proper form and are working the right muscles.
Focus on your core as you complete this exercise; you'll feel the burn and the benefit.
How to Make it More Difficult
The TRX push-up is an advanced form of push-up. Combined with our free 1-day meal plan you should see the weight drop off and improved chest definition.
But it is possible to make this exercise harder!
You will need to master the standard TRX push-up first.
Instead of using the suspension frame in your hands you can put your feet into the suspension loops.
Now perform a standard push-up with your feet in the suspension loops.
All your weight will be on your arms and chest increasing the burn.
You can raise the suspension loops to make this more difficult.
Other variants include placing your hands closer together; this will increase the effort you need to put in to every movement.
You can also try lifting your hands off the floor when you push-upwards. This will ensure you use explosive force and your body gets the most possible benefit.
Deciding Your Rep Level
It is important to choose a rep level that pushes your current limits. High intensity exercises are proven to boost testosterone levels and increase the amount of growth hormone in your body.
If you are already used to exercising then it is a good idea to aim for 10 reps and repeat this 3 times. Should this prove too easy for you then it will be time to adopt one of the advanced forms or to increase the number of reps you are aiming for. Adjust the position of your feet to do more reps with less resistance, or more resistance and less reps.

Final Thoughts
The TRX push-up is a great complement to our 24-minute workout but there are a variety of other TRX exercises that you can undertake to boost your muscle building results.
Try these exercises to complement your TRX push-up:
Once you have discovered how the TRX push-up can transform your workout program you'll quickly want to try the other TRX exercises above.
The results are impressive but this doesn't mean you should abandon the 1-day meal plan or 24-minute workout. All of these elements work together with the TRX push-up to give you a complete and satisfying workout.
Your new friend & health coach,

Here's How Busy Fathers Over 40 Are Finally Burning Stubborn Belly Fat & Getting Healthy Without Restrictive Diets or Time-Consuming Workouts
This proven "Fit Father Program" has helped 25,000 busy men 40+ lose weight, rebuild muscle, and finally keep the weight off.
If you're frustrated with stubborn belly fat, failed diets, and time-consuming workouts, this is the answer you've been looking for…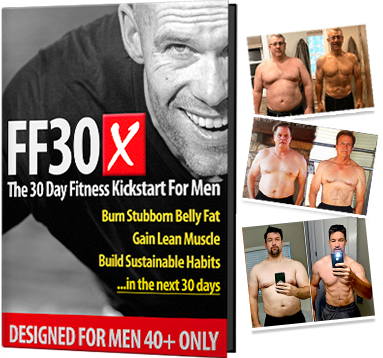 Join 22,000 guys in over 98 countries are using FF30X to lose weight. You get everything you need to succeed – including:
The Fit Father Meal Plan – with simple & delicious recipes
Safe & Effective Workouts Program – only 90 min/week
VIP Accountability Coaching – our Fit Father Team will personally walk you to success, step-by-step.
LEARN MORE ABOUT FF30X >>
See the FF30X Program overview here. You'll discover how this proven Fit Father Program can help you lose weight and actually keep it off – without the complication and restriction of normal diets. »
*Please know that weight loss results & health changes/improvements vary from individual to individual; you may not achieve similar results. Always consult with your doctor before making health decisions. This is not medical advice – simply very well-researched info on conditioning workouts.