M
ore than 50% of Americans want to lose weight, but only
26%
are even trying. Obtaining a fit body is not as difficult as most people believe it to be, but it definitely takes
some
effort. These 8 weight loss workouts for men, will help get you started in the right direction.
Here at the Fit Father Project, we've helped over 22,000 men lose more than 95,000 lbs of fat and get fitter and healthier than they've been in years (sometimes even decades!).
Working out regularly can provide a tremendous amount of benefits, especially in combination with a healthy diet. Everyone has different goals, capabilities, and body compositions, but we must all follow the same formula to lose weight. Find the weight and repetitions that work best for you.
With that in mind, use the video below to get an idea on the form and number of repetitions for each weight loss workout.
Here's A Free 24-Min Fat Burn Workout For Busy Men 40+
This powerful workout will reignite your metabolism to burn fat 24/7 like you did in your 20s…
8 Weight Loss Workouts
With feet at shoulder length apart, straddle the kettlebell with both legs, knees slightly bent. While keeping your back flat and neck straight, squat grasp the kettlebell with both hands. Swing the weight directly in front of you, lifting it to head height with your entire core strength. Continue for for 30-45 seconds.
Using either kettlebells or dumbbells, grasp the weights with each hand. With feet slightly apart, elevate and load the weights to shoulder height, with your elbows bent. With the loaded weight, squat all the way down, then back up to the same position. In one smooth motion, lift the weights until your arm reaches the extended position. Return the weights to the starting point and repeat.
Begin the exercise in the plank position, like you're going to do a push-up. Using your entire core strength, jump to bring your feet into the squat position. In one smooth motion, jump again to straighten the body to a perfect line. Return to the plank position and repeat for 30 seconds.
Starting from the plank position, pull your knees forward in an alternating pattern as if you were running. Repeat for 30 seconds or more.
Begin with your feet should width apart, knees slightly bent and arms straight out in front of you. Keeping your arms in front for balance, perform a front squat. Immediately after arriving at the squatting position, jump straight up and repeat 20-30 times.
Using a rowing machine, strap your feet to the feet pedals and grasp the handles. Pull the rower forward to your chest while extending your legs to push your body back. Without locking the knees, bend your legs to move forward and extend your arms forward, allow the rower to return into the machine.
Securely anchor a long and heavy rope. Using your arms and core strength, raise each end of the rope up and down. Try to send large waves down the rope while alternating each arm. You can also grasp the ends of the rope and do giant "slams" by jumping in the air while slamming the rope down with both arms.
The most important factor
in the weight loss formula is a 
healthy meal plan
. Workouts are great, but their effectiveness are amplified many times over when used in conjunction with great food. Eating healthy is the number one most important thing a person can do to lose weight and get fit. We cannot stress this enough.
Bonus: Weight Loss Workouts Without Using the Gym
Walking
Walking is a great way to start getting more exercise and is something you do anyway! All you need is a comfortable pair of shoes and a good stretch of road. Choose an interesting route near you and commit to strolling along it for 30 minutes every day.
Walking with a hands-free device is also a great way to add a little more exercise to your daily routine without taking up any more time. You can use your stroll to catch up on some phone calls, listen to a podcast, or "read" an audiobook.
Jogging/Running
Walking burns around 5 calories per minute, whereas running will net around 12 calories per minute.
The good thing about running is that you can scale up very steadily. You can start by jogging for 1 minute out of every 10 minutes walking and progress from there.
If you don't feel like running, at least jog or walk briskly for the first few minutes of the walk. The initial burst of energy will help you burn more calories while you finish your walk.
Swimming
Swimming is a great weight loss exercise, especially as you get older.


Similar to walking and running, you can steadily increase the intensity as you get more fit.
Two of the best things about swimming are the water resistance, which helps work your muscles and the low impact, which limits injury and stress to your body.
Once you start swimming you'll realize why this is one of the best weight loss exercises. Swimming is great for strengthening your core and endurance.
HIIT (High-Intensity Interval Training)
HIIT workouts have been increasing in popularity over the past couple of years, mainly because of the proven results coming from many studies and personal testimonies.
HIIT is a weight loss workout method that can be done with any cardio exercise, making it easy to adapt. Just make sure to stay away from extreme workouts that cause injuries.
Yoga
If you're looking for something that you can do at home and is a little less active, then yoga is actually one of the best weight loss workouts! Moving your body into the various positions requires core strength and flexibility. If you don't have it you'll start to develop it!
Each pose has to be held for anywhere from seconds to minutes, which is harder than you think!
Yoga is a great way to burn calories, lose weight, increase flexibility and strengthen your body.
What Else Do I Need To Do, To Lose Weight?
These are four other key ingredients to successful weight loss:
1. Healthy Eating
You need to eat a balanced diet. Our free 1-day meal plan can help you to understand our approach to healthy eating.
2. Calorie Control
To lose weight, you need to eat fewer calories than your body needs each day.
"You can't out-exercise a bad diet"

Here's A Free Weight Loss Meal Plan For Busy Men 40+
Discover exactly what to eat for breakfast, lunch, and dinner to lose belly fat & feel energized 24/7 without hard dieting...
3. Formal Exercise Plan
Anything active can be deemed a form of exercise like we've discussed in the above article.
 A formal plan is the next step up, and the best way to move forward.
Formal exercise plans like our 24-minute fat burning workout, will push you harder and keep your weight loss progress moving along.
4. Support & Accountability
Many of you need to be supported and held accountable when you're trying to lose weight, especially when you are tempted to give up.
Your family and friends can help with this, but here at the Fit Father Project, you have the support of others who are going through, and have been through, the same process as you.
If you join our FF30X program you'll benefit from their knowledge, support, and encouragement.
You'll also have accountability steps to work through, during your initial 30 days.
Summary of the best Weight Loss Activities
These weight loss workouts are all fun, which helps the real secret to successful weight loss, building a habit.


Mix all of the weight loss workouts into your weekly schedule for best results.
Commit 30 minutes per day to doing any of these activities and you'll start to lose weight and feel healthier.
Mix up all of the weight loss workouts to keep you interested and motivated while you build good habits.
It's time to take your weight loss seriously and show it you mean business!
Wishing you all the success in the world.
Your new friend & health coach,

Here's How Busy Fathers Over 40 Are Finally Burning Stubborn Belly Fat & Getting Healthy Without Restrictive Diets or Time-Consuming Workouts
This proven "Fit Father Program" has helped 25,000 busy men 40+ lose weight, rebuild muscle, and finally keep the weight off.
If you're frustrated with stubborn belly fat, failed diets, and time-consuming workouts, this is the answer you've been looking for…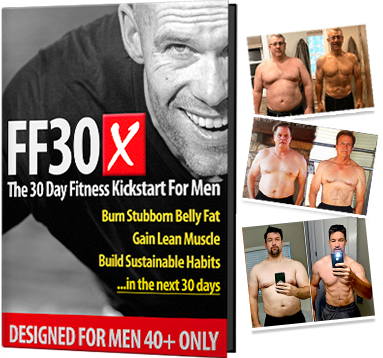 Join 22,000 guys in over 98 countries are using FF30X to lose weight. You get everything you need to succeed – including:
The Fit Father Meal Plan – with simple & delicious recipes
Safe & Effective Workouts Program – only 90 min/week
VIP Accountability Coaching – our Fit Father Team will personally walk you to success, step-by-step.
LEARN MORE ABOUT FF30X >>
See the FF30X Program overview here. You'll discover how this proven Fit Father Program can help you lose weight and actually keep it off – without the complication and restriction of normal diets. »
*Please know that weight loss results & health changes/improvements vary from individual to individual; you may not achieve similar results. Always consult with your doctor before making health decisions. This is not medical advice – simply very well-researched info on weight loss workouts.