Weight loss meal prep is one of the best ways to eat healthily. But, you have to know how to do it right!
Taking care of your body and weight may seem like an impossibility when you're faced with running your household and managing your career as well.
Many people think that when it comes to yourself, family, and career, that you can only pick two to really excel at.
But you can have it all!
Weight loss meal prep has helped many people regain a strong physique while spending half the time they thought they'd spend preparing meals.
Weight loss meal prep allows you to set up your dinners and lunches for an entire week, which makes sure that you stick within your dietary restrictions.
Meal prepping also means less wasted food and less wasted money at the grocery store!
Read on to learn how you can leverage weight loss meal prep to put time back into your day and create a healthier life.
Weight Loss Meal Prep: Structuring Your Diet
When you're considering weight loss meal prep, the best thing to do is to first find a structure that works for you.
We all have different bodies, jobs, and families, so not everyone will be able to adhere to the exact same schedule.
But any good weight loss meal prep routine has these two things: timing and nutrition.
Timing
When it comes to timing your meal prep, you will first need to figure out what day of the week works best for you to prepare your meals.
We recommend Saturday, Sunday, and Wednesday.
The weekends are good days to prep meals because the majority of us are off work and have more time on our hands.
Prepping halfway through the week also works if you'd rather prep twice a week rather than once.
Nutrition
Next, you'll need to create your menu and hit the grocery store.
Figuring out your menu seems like it would be incredibly challenging.
Especially for those of us who have spouses that usually make the food decisions, you may feel like you're overstepping.
But all the decisions that weight loss meal prep really requires is coming up with what type of protein, vegetables, healthy fats, and carbs that you'd like to eat during the week.
But all you really need to do is come up with a list of protein, carbs, healthy fats, and vegetables that you can mix and match throughout the week!
Weight Loss Meal Prep: Preparing Your Food
Once you're back from the grocery store and have gobs of healthy food, you'll want to prepare it right?
As always, the devil is in the details.
The "prep" part of weight loss meals is an extremely important step that you can't skip.
Luckily, it's not that difficult!
After cooking all of your food properly and seasoning it to taste, you will want to divide it up into Tupperware meals.
To do this, we recommend following the Perfect Plate theory.
1/4 of your plate should be quality protein, such as lean beef, wild salmon, or tofu
1/4 of your plate should be complex carbs, such as sweet potato, quinoa, or wholemeal pasta
1/2 your plate should be a mix of colorful vegetables, such as carrots, peppers, and spinach
By portioning your plate this way, you'll be hitting the proper nutrition needed for weight loss.
Be sure to also review the calories you're packing away so you don't exceed your daily intake.
What Are You Waiting For?
Weight loss meal prep can change your life.
You'll be able to easily stick to your diet because your food is packed for the week!
All the indecision of if you can or should eat something will be gone.
All you need to do is eat and enjoy what you have prepared.
Not only will the ambiguity around eating disappear, but you will save time and money while you're at it.
And instead of worrying about your diet, you'll be able to focus on the other parts of your life more.
Your career and family will thank you once you start meal prepping, guaranteed.
If you're ready to start using weight loss meal prep, a good place to start for breakfast, lunch, and dinner ideas is our free 1-day meal plan.
There, you'll see the Perfect Plate theory come to life and may even learn a few new interesting dishes to try.
For those of you who are ready to pair a healthy diet with exercise, look into our FF30X program.
FF30X is the first sustainable diet & exercise program that was designed exclusively for busy fathers and men over 40 who want to lose weight, burn belly fat, build lean muscle, and get healthy for life.
Here's How Busy Fathers Over 40 Are Finally Burning Stubborn Belly Fat & Getting Healthy Without Restrictive Diets or Time-Consuming Workouts
This proven "Fit Father Program" has helped 38,000 busy men 40+ lose weight, rebuild muscle, and finally keep the weight off.
If you're frustrated with stubborn belly fat, failed diets, and time-consuming workouts, this is the answer you've been looking for…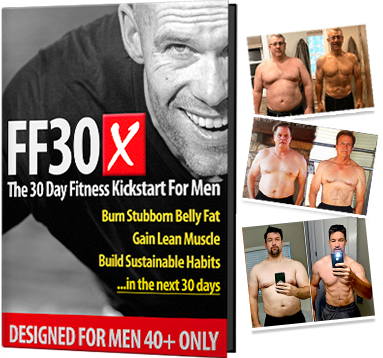 Join 38,000 guys in over 108 countries that are using FF30X to lose weight. You get everything you need to succeed – including:
The Fit Father Meal Plan – with simple & delicious recipes
Safe & Effective Workouts Program – only 90 min/week
VIP Accountability Coaching – our Fit Father Team will personally walk you to success, step-by-step.
LEARN MORE ABOUT FF30X >>
See the FF30X Program overview here. You'll discover how this proven Fit Father Program can help you lose weight and actually keep it off – without the complication and restriction of normal diets. »
*Please know that weight loss results & health changes/improvements vary from individual to individual; you may not achieve similar results. Always consult with your doctor before making health decisions. This is not medical advice – simply very well-researched info on weight loss meal prep.