U
sing a structured weight loss program for men is an effective weight loss strategy. However, knowing how to create your own weight loss meals is just as important when you want to keep lost weight off long term.
Simple meal planning tips and tricks will get you headed in the right direction, so you can achieve your goal weight and get the shredded body you deserve.
Weight Loss Calorie Needs for Men
The exact number of calories you'll need to effectively drop weight depends on your size, usual calorie intake, and how active you are. Many men should aim for 1,500 to 1,800 calories a day, suggests the National Heart, Lung and Blood Institute. Feel free to eat 2000 calories if that is more sustainable for you. Everyone's needs are different, but these weight loss meals should get you started in the right direction.
The potential meal combinations could be:
Six 300-calorie meals
Five 350-calorie meals
Three 400-calorie meals plus two 200- to 300-calorie snacks
Any other meal/snack combination of your choice totaling 1,500 to 1,800 calories
You don't have to count calories to shed pounds, but it's often helpful to know how many calories you're eating initially to plan future meals and menus. Aim to eat 500 to 1,000 fewer calories than your usual intake to lose weight at a safe, effective pace (about 1 to 2 pounds per week).
>>> Click here to download our meal plan! <<<

What Makes a Healthy Weight Loss Meal?
When planning healthy weight loss meals for men, try to choose one of each of the following categories at each meal or snack:

Choosing foods from each of the groups above helps you feel full for longer periods of time, and cut back on added sugar. Another way to boost satiety from fewer calories is to drink water (at least 2 cups) before each meal or snack. This strategy tricks your stomach into thinking it's full without taking in calories.
What Does a Sample Weight Loss Meal for Men Look Like?
Sample weight loss meals for men contain a variety of proteins, fiber, and healthy fats, and might include:
Meal #1
An omelet containing eggs, avocado, and veggies
Steel-cut oats topped with nuts
Meal #2
Plain nonfat Greek yogurt
Berries
Nuts or seeds
Meal #3
Leafy greens topped with eggs, chicken, tofu, or shrimp
Raw sliced veggies
Nuts or seeds
An oil-based salad dressing (such as Italian dressing)
Meal #4
A protein shake containing:
Low-fat milk or a plant-based milk
Protein powder
Fruit
Nut butter (peanut, almond, or cashew butter, for example)
Ice
Meal #5
Fish, chicken, lean pork, lean cuts of beef, tofu, or seafood
Brown rice, wild rice, sweet potatoes, or quinoa
Grilled vegetables
Olive oil
Meal #6
Low-fat cottage cheese topped with sunflower seeds, or hummus
Veggie sticks
The number of calories you'll consume at each meal or snack depends on how big portion sizes are. Don't forget to drink water before each meal to make it easier to cut calories and reach your desired body weight.
Sample 300 to 400 Calorie Weight Loss Meals for Men

To make it easier to count the calories in some of your favorite meals and snacks, use the U.S. Department of Agriculture's Food Composition Database. Keep a food journal to track energy intake, or use a calorie counting app. Some sample healthy weight loss meal ideas for men with calorie counts are below:
How to Make Create Meal Replacement Weight Loss Shakes
When you're on the go, don't have time to cook, or simply love the taste of refreshing homemade protein shakes, knowing how to create your own weight loss shake recipes is beneficial. Simply follow the guidelines below to mix and match ingredients from each category, add ice, blend all ingredients in a blender, and enjoy!
Sample Weight Loss Recipes for Men
Even though you have the basics down for creating your own weight loss meals and recipes, using the right flavorful ingredients makes the difference between a mouth-watering vs. a bland meal. Try the following sample healthy recipes when you're in the mood for unique (but tasty nonetheless) weight loss meals for men.
1. Grilled Tuna with Horseradish Sauce
This mouth-watering, protein-rich grilled tuna recipe gives you the protein needed to boost satiety, feel full for longer periods of time, maintain lean body mass, and burn extra calories throughout the entire day.
Ingredients included in this recipe are tuna steak, tomatoes, soy sauce, rice vinegar, vegetable oil, horseradish, onions, and hot chili paste for an extra boost of flavor.
You'll grill tuna steaks for about 3 minutes on each side, garnish with the sauce you've prepared, and enjoy watching the pounds melt off!
2. Fennel Coleslaw
When you're in the mood for a refreshing, flavorful summertime treat, consider this fennel coleslaw recipe as part of a weight loss meal for men. Cabbage, apple cider vinegar, triple sec, fennel, onion, salt, and pine nuts are on the ingredient list.
Simply place all ingredients in a medium-sized bowl,  mix well,  chill for about 30 minutes, and enjoy your creation.
3. Chicken & Quinoa Fried Rice
This nutritious chicken & quinoa fried rice recipe has all of the ingredients needed to boost satiety and meet daily nutritional needs during your weight loss journey.
Ingredients in the dish include chicken, eggs, peanut oil, sesame oil, quinoa, vegetables, soy sauce, ginger, garlic, and onions. This recipe is loaded with satiating protein and fiber.
4. Broccoli Feta Omelet
An omelet with veggies makes the perfect satiating weight loss breakfast meal for men, as it's packed with protein, fiber, vitamins, and minerals. Try this simple broccoli feta omelet recipe containing just four ingredients: eggs, feta, broccoli, and dried dill for the seasoning.
Use a little bit of cooking spray in your pan to prevent the eggs from sticking, and you'll be ready to go. Serve with toasted Ezekiel or rye bread, or steel-cut oats if desired.
5. Harissa and Citrus Salmon
When you're looking to add a boost of flavor to your next salmon dinner, try this harissa and citrus salmon recipe to help curb junk food cravings. Ingredients in this nutritious protein-rich dish include salmon, harissa (a hot chili pepper paste), lemon, an orange, chopped green onions, salt, and pepper.
This recipe couldn't be easier to prepare! Simply season salmon with the marinade you've created, bake for about 20 minutes, and enjoy!
6. Steak & Peppers Tacos
If you're a steak eater, this recipe is for you. It combines a blend of steak, peppers, olive oil, onion, low-fat sour cream, salsa, and garlic to create a flavorful steak & peppers taco recipe. This weight loss meal for men over 40 curbs cravings and keeps you satisfied for long time periods.
Simply sauté the steak and veggies with oil and seasonings, and place ingredients in whole-grain tortillas to complete this easy-to-prepare dish.
7. Grilled & Marinated Portabella Mushrooms
If you're trying to cut back on meat to shed pounds, consider this grilled & marinated portabella mushroom recipe that's sure to be a hit with the entire family. The recipe calls for portabella mushrooms, balsamic vinegar, pineapple juice, fresh ginger, and fresh chopped basil.
Baste the mushrooms with your marinade, and fire up the grill (grill the mushrooms for about 5 minutes on each side).
8. Tuna Quinoa Cakes
If you're in the mood to try a unique, nutrient-packed recipe that's different from traditional weight loss meals for men, consider this tuna quinoa cakes recipe. Main ingredients in the dish are omega 3-rich tuna and salmon, quinoa, sweet potato, onions, lemon juice, garlic, eggs, yogurt, mustard, cayenne pepper, paprika, and bread crumbs (use Ezekiel bread).
Simply mix the ingredients together, bake at 400 degrees Fahrenheit for about 20 minutes, let your cakes cool, and enjoy!
9. New Orleans Shrimp
Change things up a bit by choosing shrimp for your next weight loss meal for men. Ingredients in this New Orleans barbecue shrimp recipe are shrimp (of course), olive oil, Cajun and other seasonings, cloves, Worcestershire sauce, hot sauce, lemon juice, and beef broth.
All you have to do is combine the marinade ingredients, cook the shrimp on a skillet over medium heat, and enjoy!
10. Zucchini Noodles with Avocado Pesto Sauce

If you're a carb lover but need a way to cut back on your carbohydrate intake, consider a zucchini noodle with avocado pesto recipe that's packed with protein, fiber, and healthy fats. You can use a vegetable spiralizer to create zucchini noodles, which are much lower in carbs than traditional pasta, from scratch.
Zucchini noodles replace regular pasta and are topped with a sauce made of salt, pepper, pistachios, avocado, basil, olive oil, lemon juice, garlic, and Old Bay seasoning. Add a protein of shrimp, chicken, or tofu to complete the dish.
Beginning a New Weight Loss Plan
Now that you have some weight loss meals for men and recipe ideas, it's time to begin your weight loss journey. Fit Father Project offers free 1-day meal plans for busy men over 40, who want to shed weight and body fat — but maintain or boost lean muscle mass. Fit Father Project meal plans are customized to meet weight loss goals based on your food preferences, activity level, and much more.
Not sure about which workouts will maximize weight loss for men over 40? Fit Father Project also offers free 1-day workout plans. Using a structured weight loss program takes the guesswork out of planning your own menus, recipes, and workouts when you're tight on time.
Be sure to follow some general weight loss tips and tricks in addition to eating healthy and staying active, such as:
Get at least 7 hours of sleep each night (set regular a bedtime)
Drink water before meals (aim for at least 2 cups)
Reduce stress
Stay active throughout the entire day
Exercise at least 30 minutes daily
Boost protein and fiber intake
Fight depression (seek professional help) if you suffer from it
Remember, weight loss takes time. Aim to lose about 1 to 2 pounds of body weight weekly, and don't get discouraged if you have an off week.
Here's How Busy Fathers Over 40 Are Finally Burning Stubborn Belly Fat & Getting Healthy Without Restrictive Diets or Time-Consuming Workouts
This proven "Fit Father Program" has helped 38,000 busy men 40+ lose weight, rebuild muscle, and finally keep the weight off.
If you're frustrated with stubborn belly fat, failed diets, and time-consuming workouts, this is the answer you've been looking for…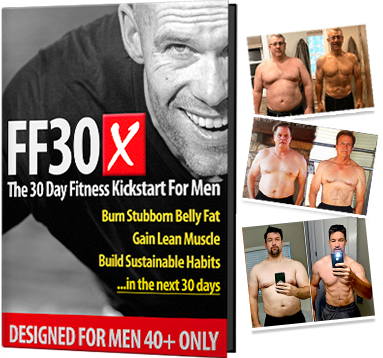 Join
38,000
guys in over
108
countries that are using FF30X to lose weight. You get everything you need to succeed – including:
The Fit Father Meal Plan – with simple & delicious recipes
Safe & Effective Workouts Program – only 90 min/week
VIP Accountability Coaching – our Fit Father Team will personally walk you to success, step-by-step.
LEARN MORE ABOUT FF30X >>
See the FF30X Program overview here. You'll discover how this proven Fit Father Program can help you lose weight and actually keep it off – without the complication and restriction of normal diets. »
*Please know that weight loss results & health changes/improvements vary from individual to individual; you may not achieve similar results. Always consult with your doctor before making health decisions. This is not medical advice – simply very well-researched info on creating weight loss meals.