T
he TRX fallout is another great suspension exercise to add to your routine. Also known as suspension fallouts, ab fallouts, and strap fallouts, it's also one of the better exercises for strengthening your core.
The TRX Fallout is a lot like using an ab wheel. It's a fantastic move to add to any routine, as are almost any TRX exercises. It takes the entire body to maintain balance through most TRX lifts, which is one of the reasons they're so great for building core strength.
Step 1: Adjust the straps so the handles hang below your waist.
Step 2: Grasp the handles and lean into the straps as if you were going to do a push-up.
Step 3: Keeping your arms straight, lean into the suspension, and raise your arms up and over your head.
Step 4: Maintain a neutral spine and keep the rest of your body straight, shoulders should be the only joints that move.
Step 5: Pause momentarily during the peak of the exercise, then slowly return to the starting position.
The key to the fallout is to keep your core engaged throughout the entire exercise. Don't let your butt glide out or saddle in to make the lift easier. It's important to use the body's micro-adjustments to work your core and all muscle groups.

Variations of the TRX Fallout
One of the more difficult variations of the TRX Fallout is the TRX Anti-Extension Fallout. To perform this move, adjust the straps of the suspension system so that the handles hover around 6-12 inches above the ground. Grasp the handles and adjust your feet until you are in an elevated push-up position. Then swing the handles outward, in-front and above you, engaging your core and maintaining a neutral spine throughout the entire lift.
Exercises like the fallout are highly adaptable. Modify the position of the straps and the position of your feet to adjust the intensity of your workout. Just remember to keep your core engaged and use your muscles to perform the lifts (not momentum or locked joints).
More Suspension Exercises
Your new friend & health coach,

Here's How Busy Fathers Over 40 Are Finally Burning Stubborn Belly Fat & Getting Healthy Without Restrictive Diets or Time-Consuming Workouts
This proven "Fit Father Program" has helped 25,000 busy men 40+ lose weight, rebuild muscle, and finally keep the weight off.
If you're frustrated with stubborn belly fat, failed diets, and time-consuming workouts, this is the answer you've been looking for…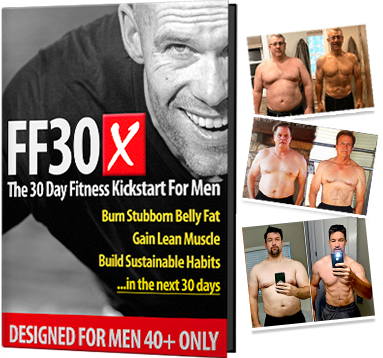 Join 22,000 guys in over 98 countries are using FF30X to lose weight. You get everything you need to succeed – including:
The Fit Father Meal Plan – with simple & delicious recipes
Safe & Effective Workouts Program – only 90 min/week
VIP Accountability Coaching – our Fit Father Team will personally walk you to success, step-by-step.
LEARN MORE ABOUT FF30X >>
See the FF30X Program overview here. You'll discover how this proven Fit Father Program can help you lose weight and actually keep it off – without the complication and restriction of normal diets. »
*Please know that weight loss results & health changes/improvements vary from individual to individual; you may not achieve similar results. Always consult with your doctor before making health decisions. This is not medical advice – simply very well-researched info on TRX Fallout.