The TRX single bicep curl is an essential exercise to add to your upper or full-body routine.
Like most suspension exercises, this one is very easy to fit in (even when traveling), and works amazingly well at strengthening biceps, though the entire arm must work fairly hard to complete the exercise.
The biceps brachii is a two-headed muscle. Both of the heads extend from the shoulder to the forearm and work in conjunction to complete.
Targeting the biceps so that both head muscles are evenly worked is a much-discussed and controversial topic. It seems the best advice is to work the muscles with a variety of exercises and variants.
It also happens to be one of the most challenging suspension workouts.
We recommend adding it to the end of your routine for maximum effect.
Try doing three sets of 10-15 reps.

TRX Single Arm Bicep Curl Step by Step Instructions
Step 1: Stand comfortably and grasp the handles of the suspension system.
Step 2: Lean back resting your weight on one arm, keeping the spine neutral.
Step 3: Slowly curl to pull your body weight to the up position. Supinate the arm and squeeze as you approach the end position.
Step 4: Lower yourself back down and repeat.
** Pro Tip #1: To start, complete this exercise with 3 sets of 10-15 reps.
** Pro Tip #2: To increase the intensity, get low to the ground by bringing your feet forward and leaning back. Bend your knees to maintain a neutral spine.
TRX Single Arm Bicep Curl Variations
The TRX single arm bicep curl can be adapted to work additional muscle groups with a simple modification to the body's orientation.
The most obvious variation is to use two hands, which would lighten the load. This is a great method for beginners, but it can also be used as an exercise in a round of HIIT.
If you're looking to increase the intensity, try starting with your chest perpendicular to the straps (as opposed to facing them), arms extended, creating a perfect line with the straps. Curl your body toward the straps while maintaining a neutral spine.
Alternatively, you can also adjust the straps to hang very low to the ground. Bend your knees so that your body is parallel to the ground and curl to the up position.
More Suspension Exercises
TRX Spiderman Push-up
TRX Push-up
TRX Bicep Curls
Your new friend & health coach,
Stuart Carter
Head Training Staff, The Fit Father Project
Brotherhood Nickname: "The Fit Brit"
Bragging Rights: 16 Years in the fitness industry, Author of 'The Easy Fitness Guide', Father of 4 boys and Husband to a Venezuelan beauty.
If you're interested in a proven and completely laid out "done-for-you" weight loss meal plan & workout routine – designed for you as a busy man…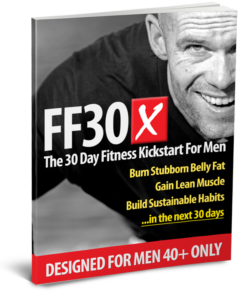 I'd recommend you read the program overview letter for our Fit Father 30-Day Program (FF30X). Inside FF30X, you'll receive:
The simple & delicious Fit Father Meal Plan
The metabolism boosting Fit Father 30X Workout (under 90 min/week)
VIP email coaching where I'll personally walk you through the program
Read the FF30X Program overview letter here to see how our plan can help you lose weight – without the complication & restriction of normal diets.
*Please know that weight loss results & health changes/improvements vary from individual to individual; you may not achieve similar results. Always consult with your doctor before making health decisions. This is not medical advice – simply very well-researched info on the TRX single bicep curl.